Rosemary and Garlic Roasted Butternut Squash Soup 🙂 ! Enough said!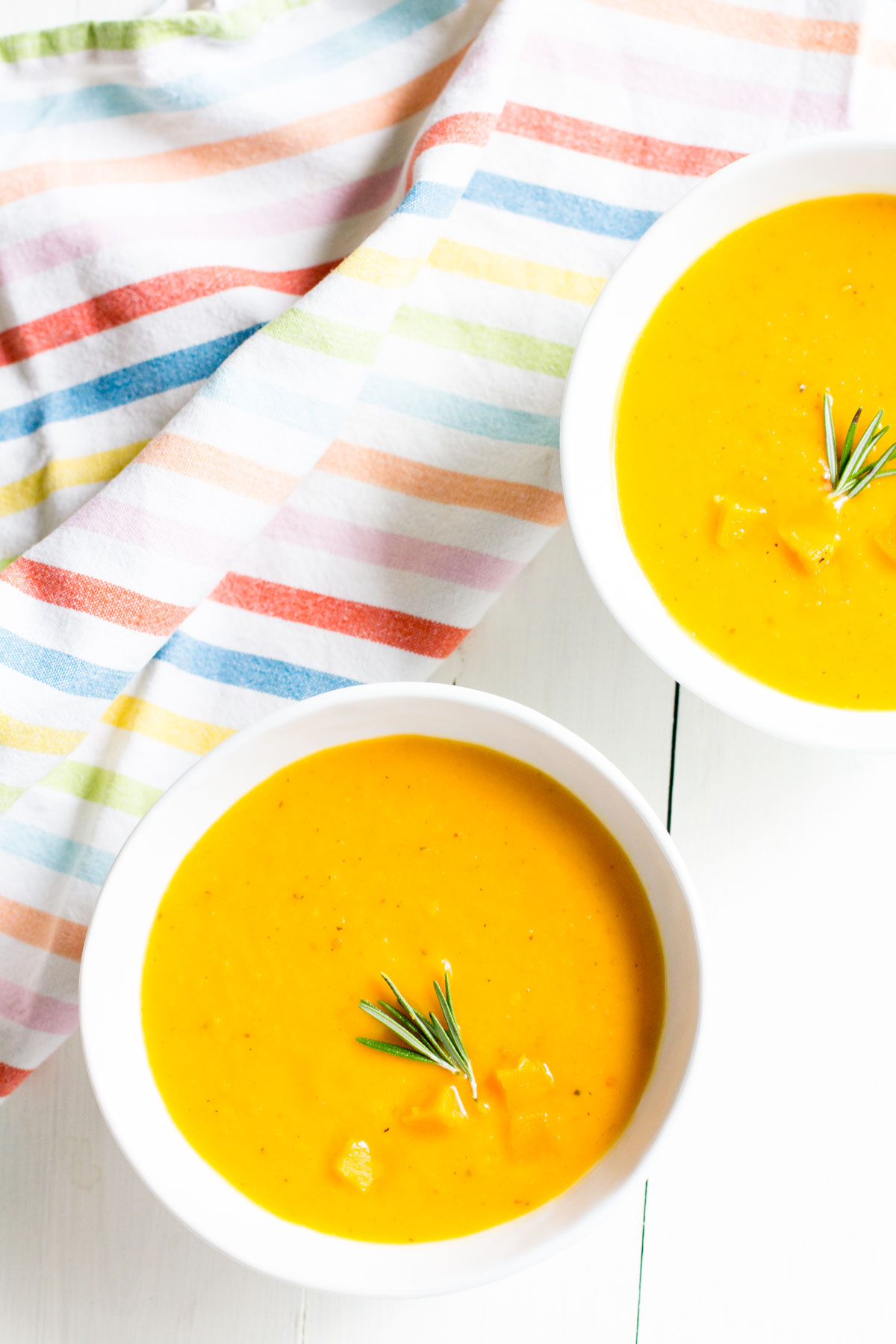 This is my all time favorite winter soup! Butternut Squash is in full season and I am fashionably late in posting the recipe for it lol, but better late than never right?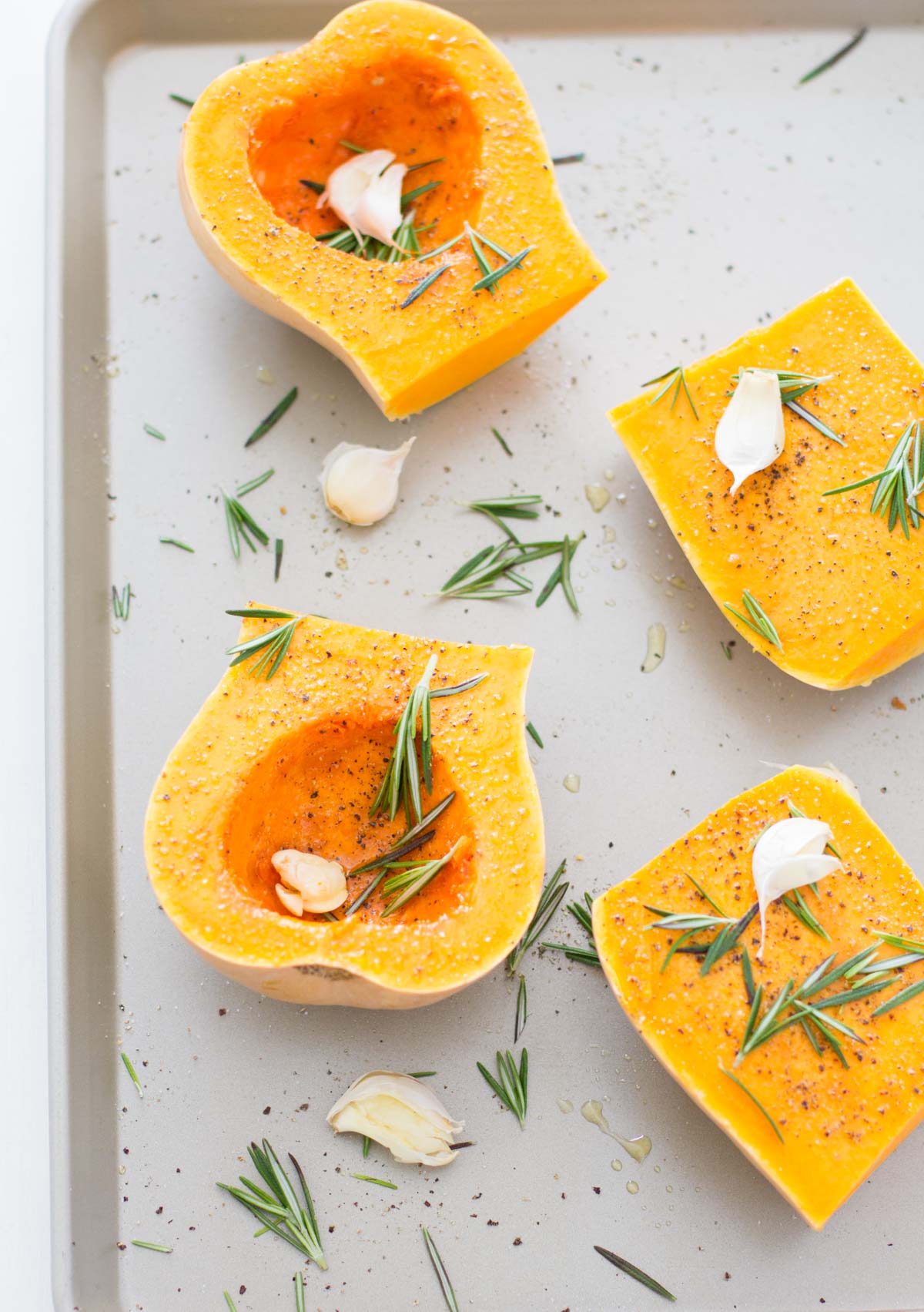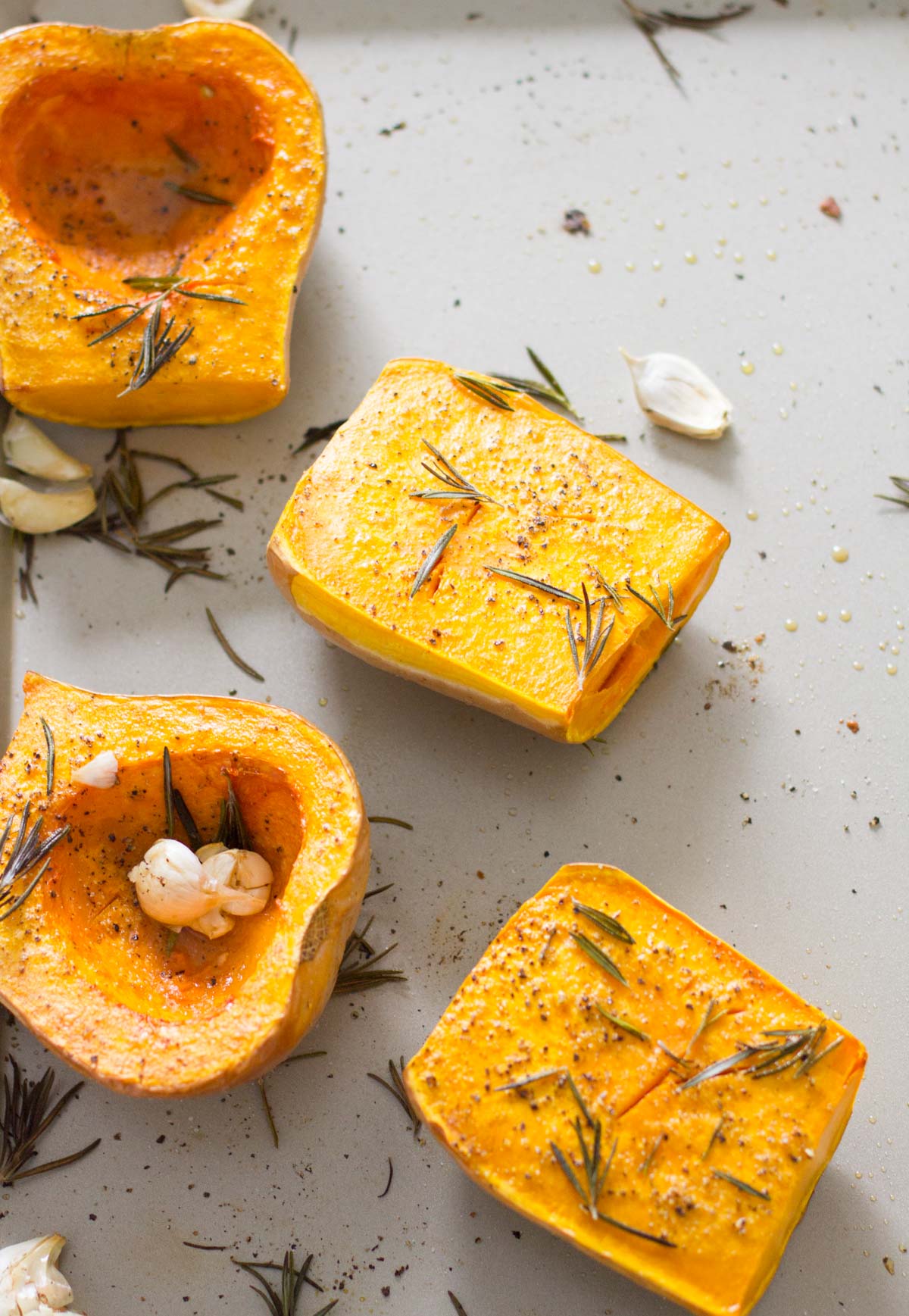 I believe "Soups" and "Minnesota Winter" go hand in had!  And as much as I am the summer loving, trail walking, BBQ-ing girl, I love love love making and slurping soups in this Minnesota Cold!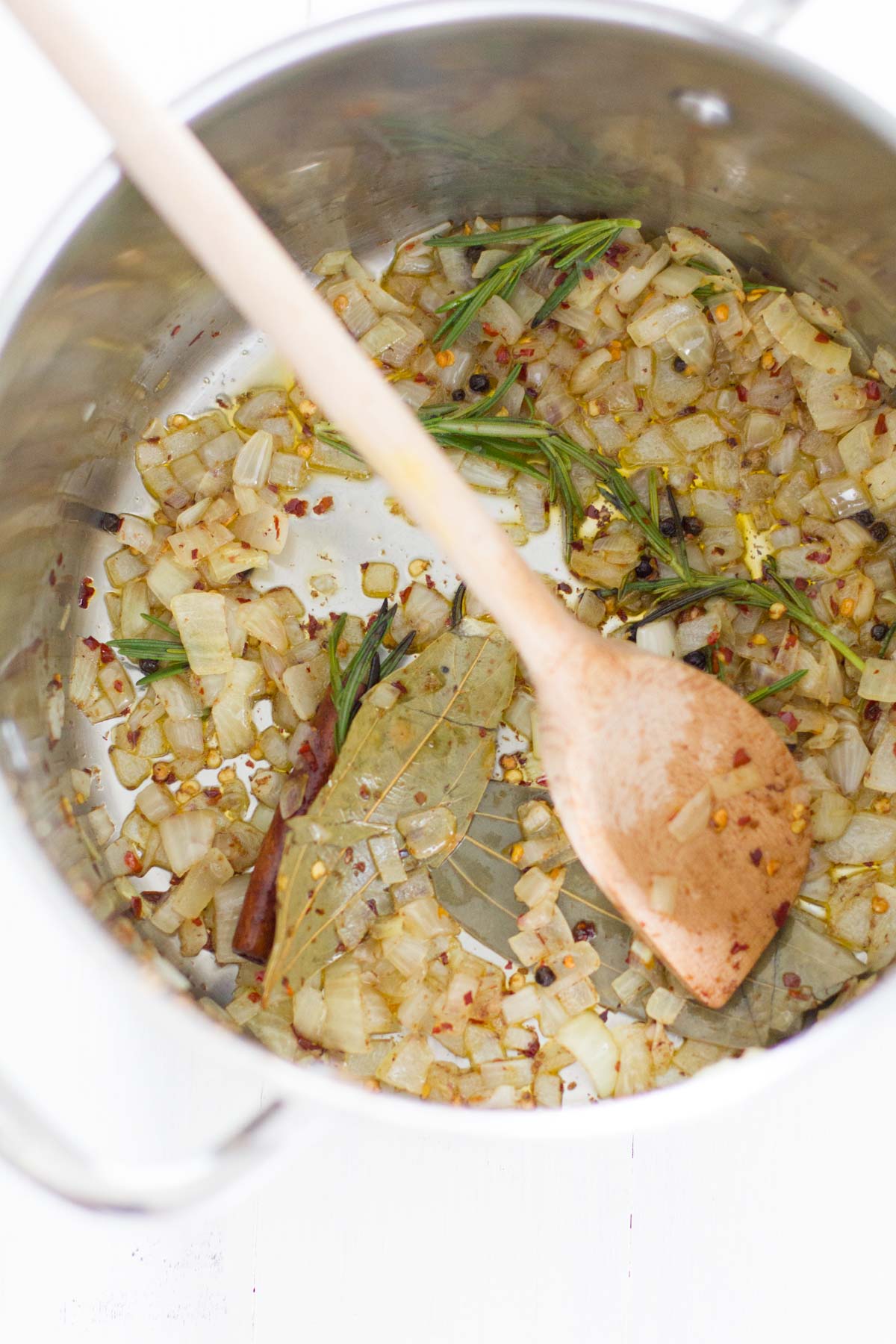 Winter is the perfect time for my latest soup addiction.  The moment I text the husband that I'm making soup for dinner, he comes home with nice crusty buggette in hand :D.  Talk about chemistry there! 😛 There is no other satisfaction than moping up a good bowl of soup with some nice crusty, chewy bread I tell ya!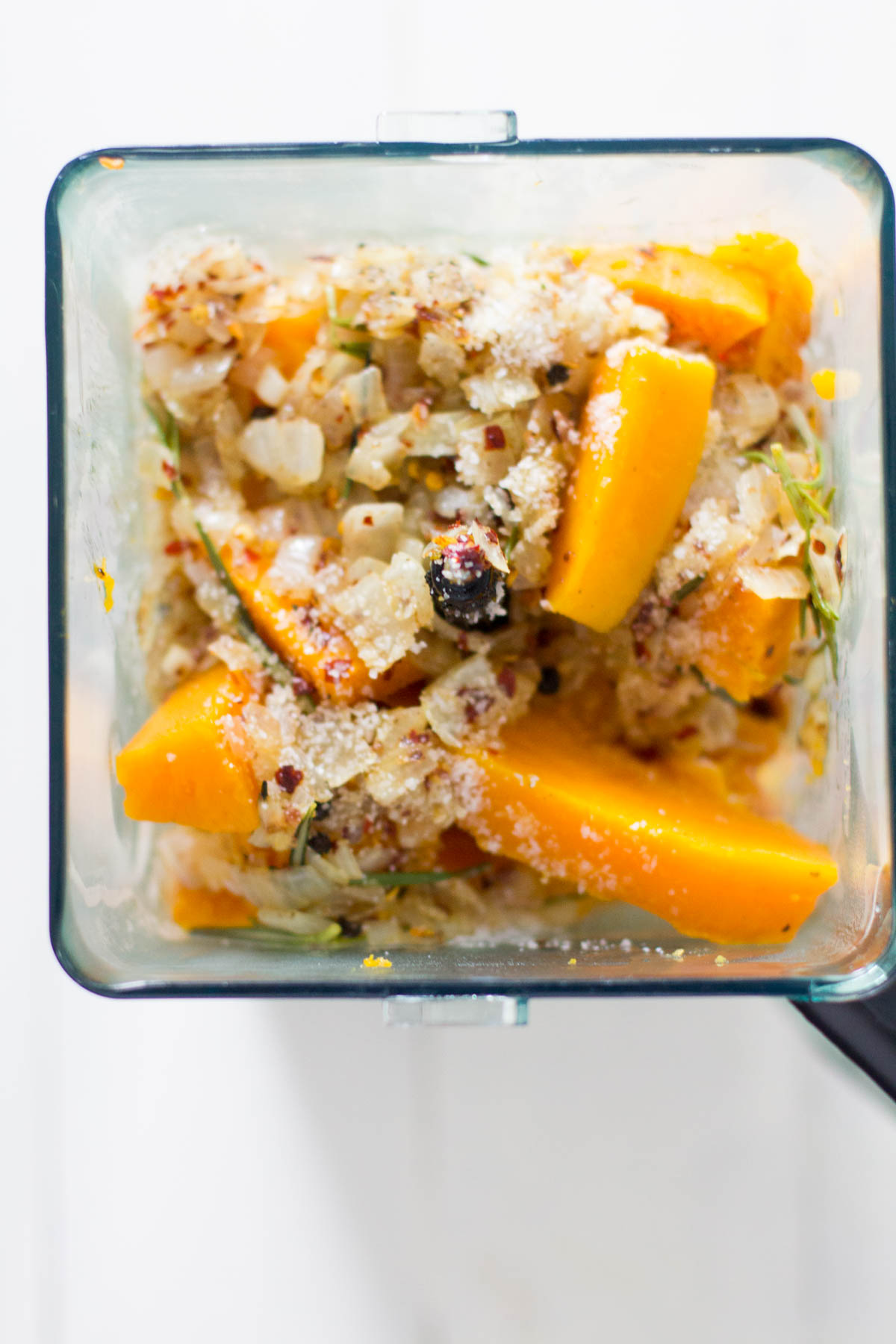 This is a very hearty, rich and creamy – all around delicious winter soup.  The roasting of the squash first not only makes it super soft and tender but gives it a very rich caramalized flavor as well.  And also by roasting it whole it makes it super easy to handle, avoiding all the difficult task of peeling and chopping the whole squash.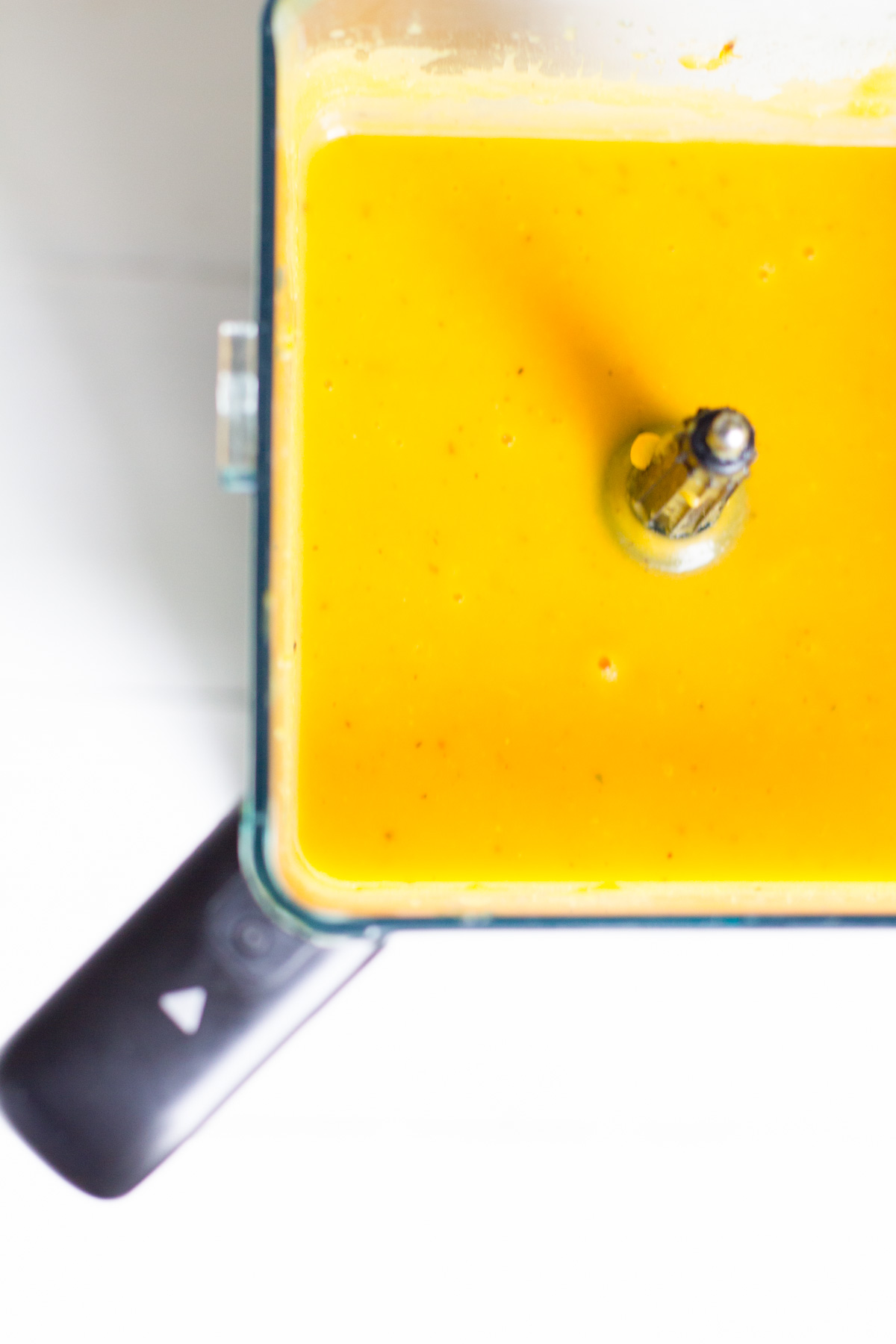 The added rosemary and garlic gives it a very aromatic and earthy flavor.  But above all the freshly grated nutmag does the wonders I believe! If you plan a little ahead and put the butternut squash in the oven, the making of the soup is super easy afterwards.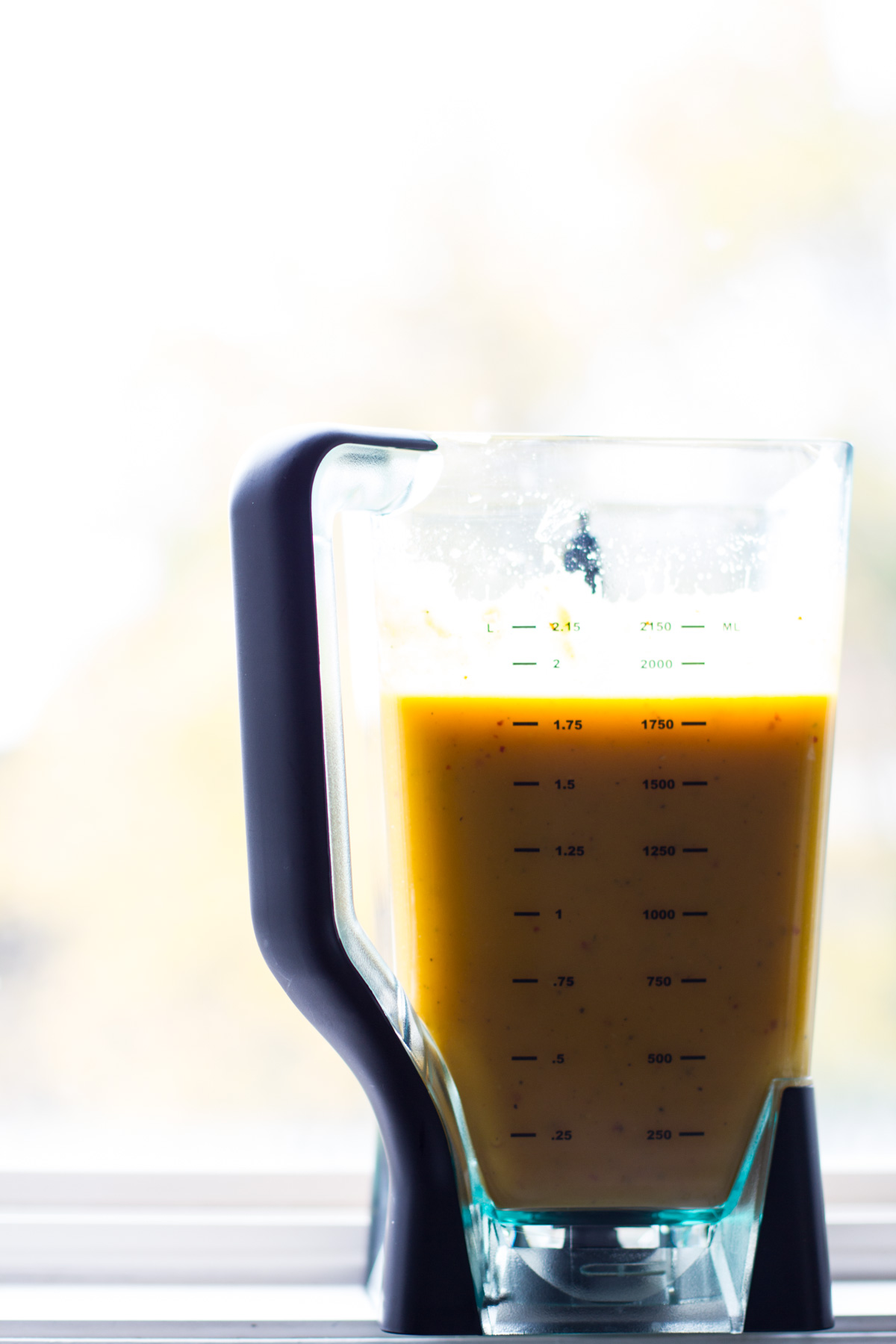 My dear friend Shweta asked for this recipe quite a few times, and I kept promising her that I'll post it soon instead of describing over the phone, that "soon" has happened today!  When it comes to traditional "Gujarati" cuisine I always look upto her after my mother, because I love the fact that she is always a phone call away.  We have known each other since past 16 years but seem to have re-discovered ourselves and our friendship more in last 5 years or so.  We both have so many similaries yet at the time we are so different!  It wise to never let go "that" friend with whom you share your OCD about organization and hygiene lol…it always feel so comforting picking the phone up and talking about just our random "things".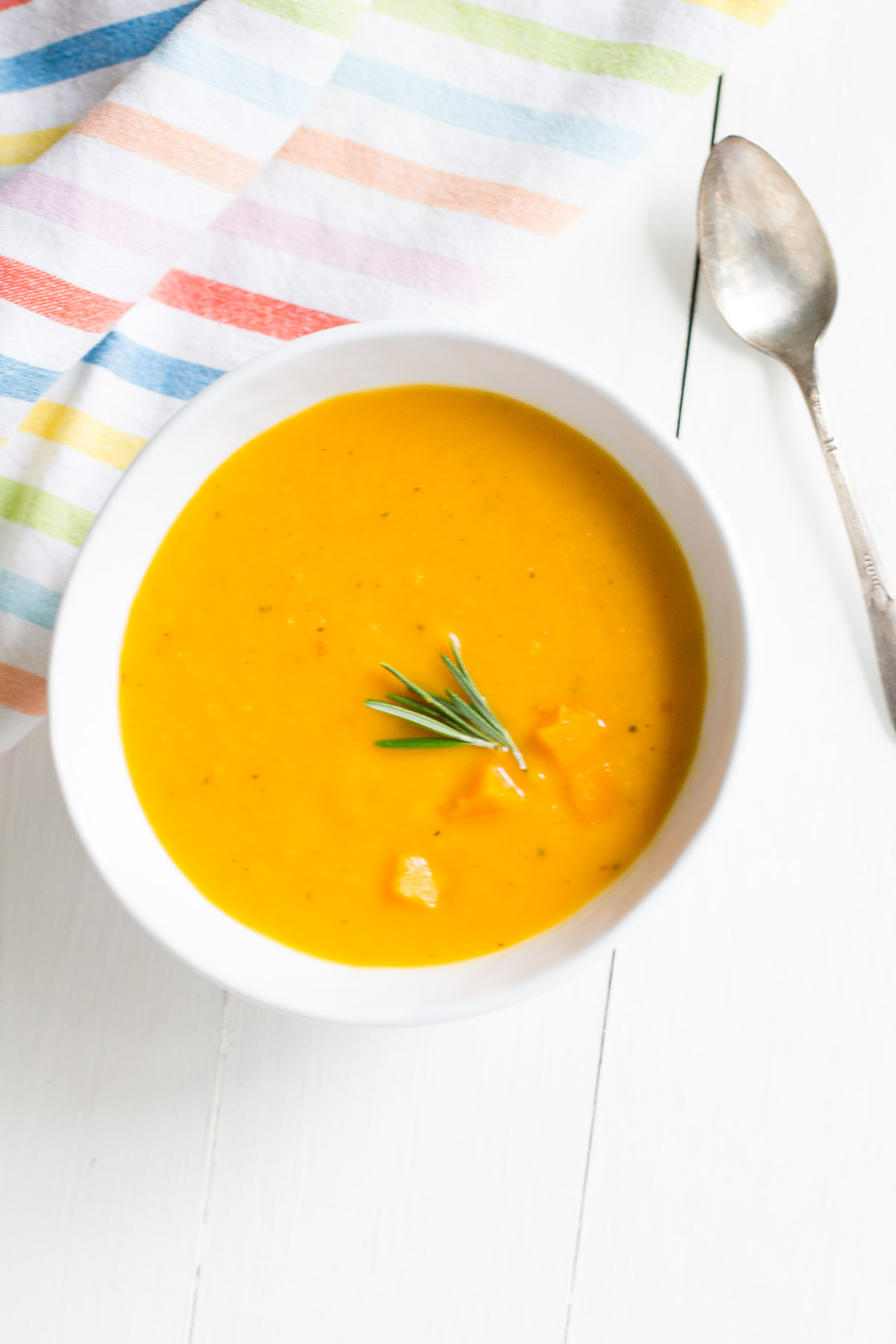 I have always admired her strength and courage towards life.  The time when we were teenagers, I would not have believed that years later, we would be calling eachother and talking about making soup lol, but now we do!  I have always felt that she truely knows me and I can always be who I'm around her.  We respect eachother's opinions, disagreements, worries and obstacles.  In a way, she is so such much alike my favorite soup – Warm and Comforting to the core! 🙂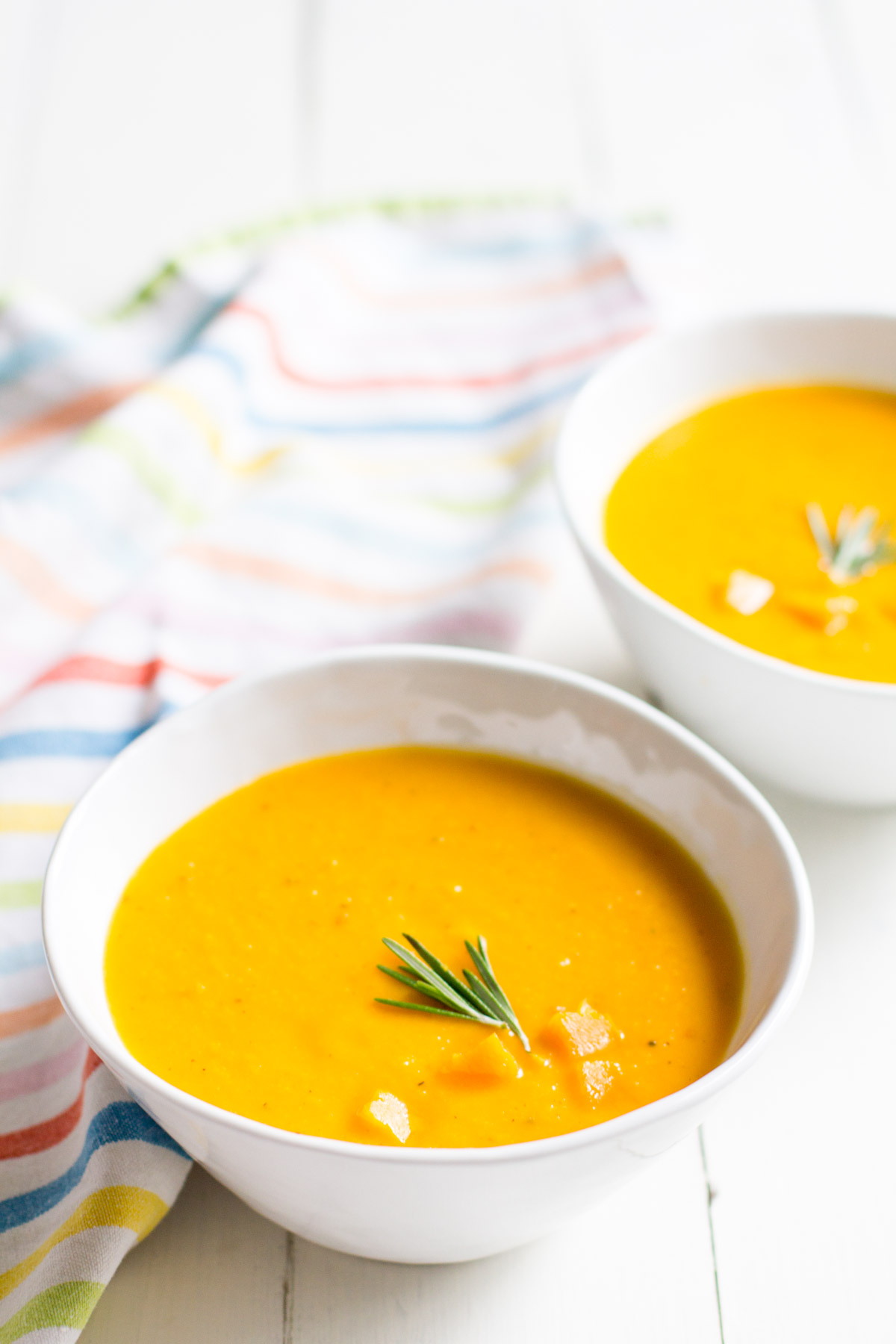 So, make this soup and feed to your family or to that dear friend of yours! I'm sure you will fall in love with these array of flavors!
P.S. –  Shwetz if you are reading this, then know that this soup recipe is dedicated to you! 🙂 , love xoxo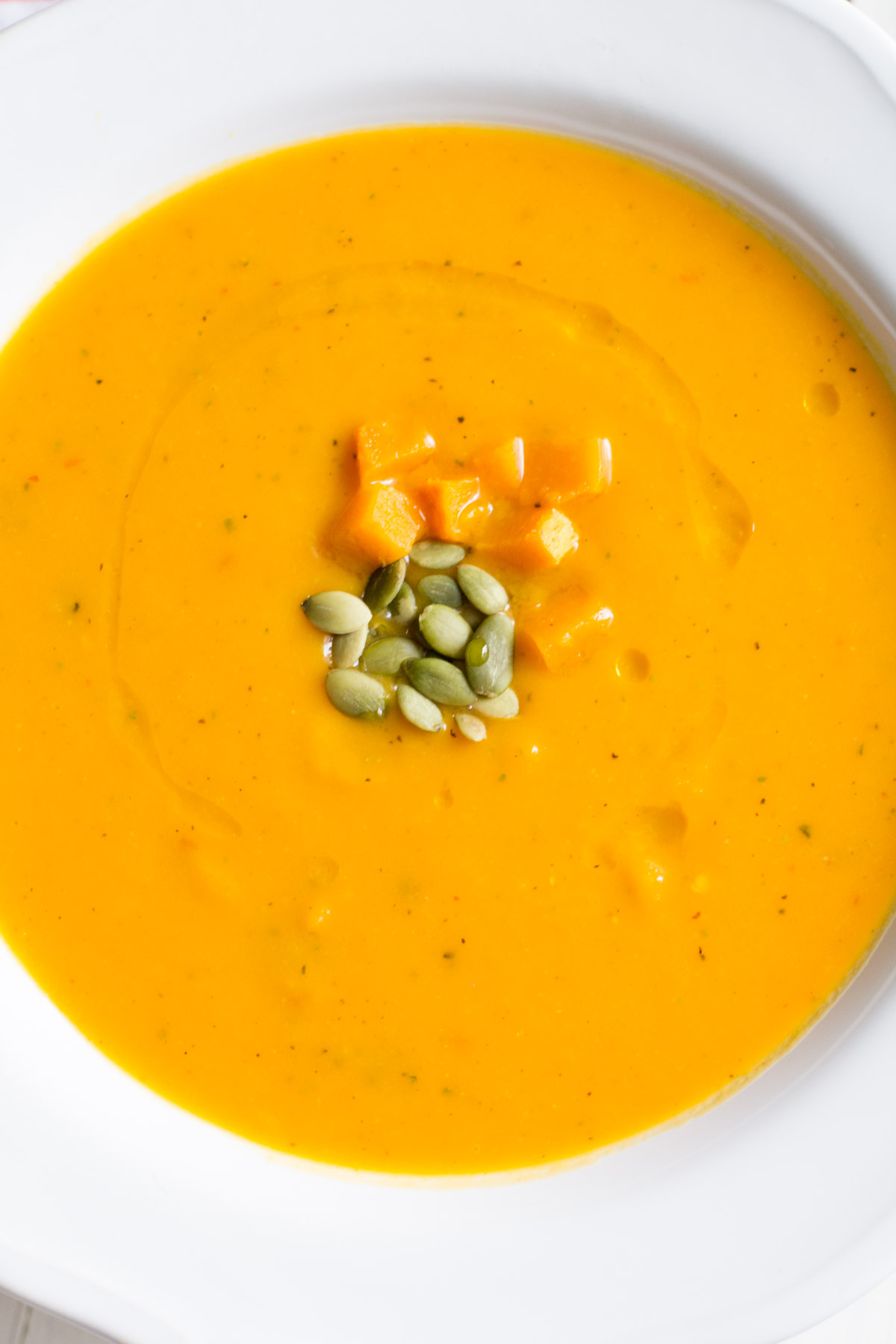 Rosemary-Garlic Roasted Butternut Squash Soup
Rich and creamy butternut sqaush soup that has roasted butternut squash that gets infused with aroma of rosemary and garlic. Perfect winter soup to mop up with the crusty bread.
Author:
www.urbancilantro.com
Recipe type:
soup, Lunch-Dinner
Cuisine:
Vegan, Vegetarian, Dairy Free, Gluten Free
Ingredients
FOR ROASTING THE SQUASH --
~~~~~~~~~~~~~~~~~~~~~~~~~
1 large butternut squah (about 3 pounds), washed and halved vertically and seeded
2 teaspoons olive oil
3-4 springs of fresh rosemary, stripped
4-5 cloves of garlic, smashed
kosher salt, to taste
FOR MAKING THE SOUP --
~~~~~~~~~~~~~~~~~~~~
1 medium size sweet onion, chopped
3-4 galic cloves, minced
2 tablespooons olive oil
1 teaspoon black pepper corns, whole
2 bay leaves
1 cinnamon stick
3-4 springs of fresh rosemary
1 teaspoon red chili flakes (or cayenne works too!)
¼ teaspoon freshly grated nutmeg
4 cups (32 ounces) vegetable broth ( or 2 cups of broth and 2 cups of water)
toasted pepita seeds (pumpkin seeds), for serving (optional)
more olive oil, for drizzling (optional)
kosher salt, to taste
Method
Preheat the oven to 425 degrees Fahrenheit and line a rimmed baking sheet with foil or parchment paper to reduce cleaning later.
Place the butternut squash on the pan and drizzle olive oil to coat each half. Make sure to rub the oil over and inside of the squash and sprinkle some salt. Strip 3-4 springs of fresh rosemary and sprinkle it over. Add smashed cloves of garlic and place the sheet in the oven, preferably cut side down.
Roast for about 40-50 minutes or untill it is tender and throughly cooked. After that let it cool untill its easy enough to handle, about 10-12 minutes. Then use a large spoon to scoop out the flesh into a bowl. Discard the tough skin along with the rosemary and garlic.
Meanwhile, in the large soup pot/stock pot heat up the olive oil over mediam heat.
Add bay leaves, cinnamon stick and black pepper corns and stir for few seconds.
Now add in rosemary stalks and chopped onion. Cook, stirring often, until the onion has softened and is starting to turn golden on the edges, about 2 to 4 minutes.
Add the garlic and cook until fragrant, about 30 seconds, stirring frequently and making sure it doesnt get burnt.
Add in chilli flakes, freshly grated nutmeg and salt and cook for another 1-2 minutes.
Turn off the heat and remove the bay leaves and cinnamon stick from the mixture. I usually keep these on the side to later add it to the pureed soup to seal in more flavor.
Place the cooked onion mixture and the roasted squash in a blender. Add some of the vegetable broth/water to help it blend well and puree everything until it reaches creamy-smooth soup consistency.
Now take the contents of the blender and transfer it again into the same soup/stock pot and add the remaining vegetable broth.
Taste and adjust the seasoning of salt and pepper. Add back the bay leaves and cinnamon stick that you removed earlier.
Simmer on low for 10-15 mins with the lid on so that the falvors mingle well.
Remove from heat and serve hot as is or with a drizzle of extra vagrin olive oil and a sprinkle of peptita seeds along with some crusty bread.
The leftover soup can be stored in a container in the refrigerator for up to 4 days after it has cooled completely. Or you can freeze this soup for up to 3 months.
My Notes
To balance out the sweetness from the butternut squash I reccomend adding the mentioned amount of chili flakes or cayenne. But if you can not handle heat or making these for kids, do not add the chilli flakes. The black pepper would still be enough.

You can make this soup using an immersion blender as well, just make sure to remove the bay leaves and cinnamon stick from the cooked onion mixture and add roasted squash along with the vegetable broth/water and blend away. Cook for another 15-20 mins or so and it will be ready to serve.