It would be unfair not to post homemade pita chips recipe after posting two dips back to back, right?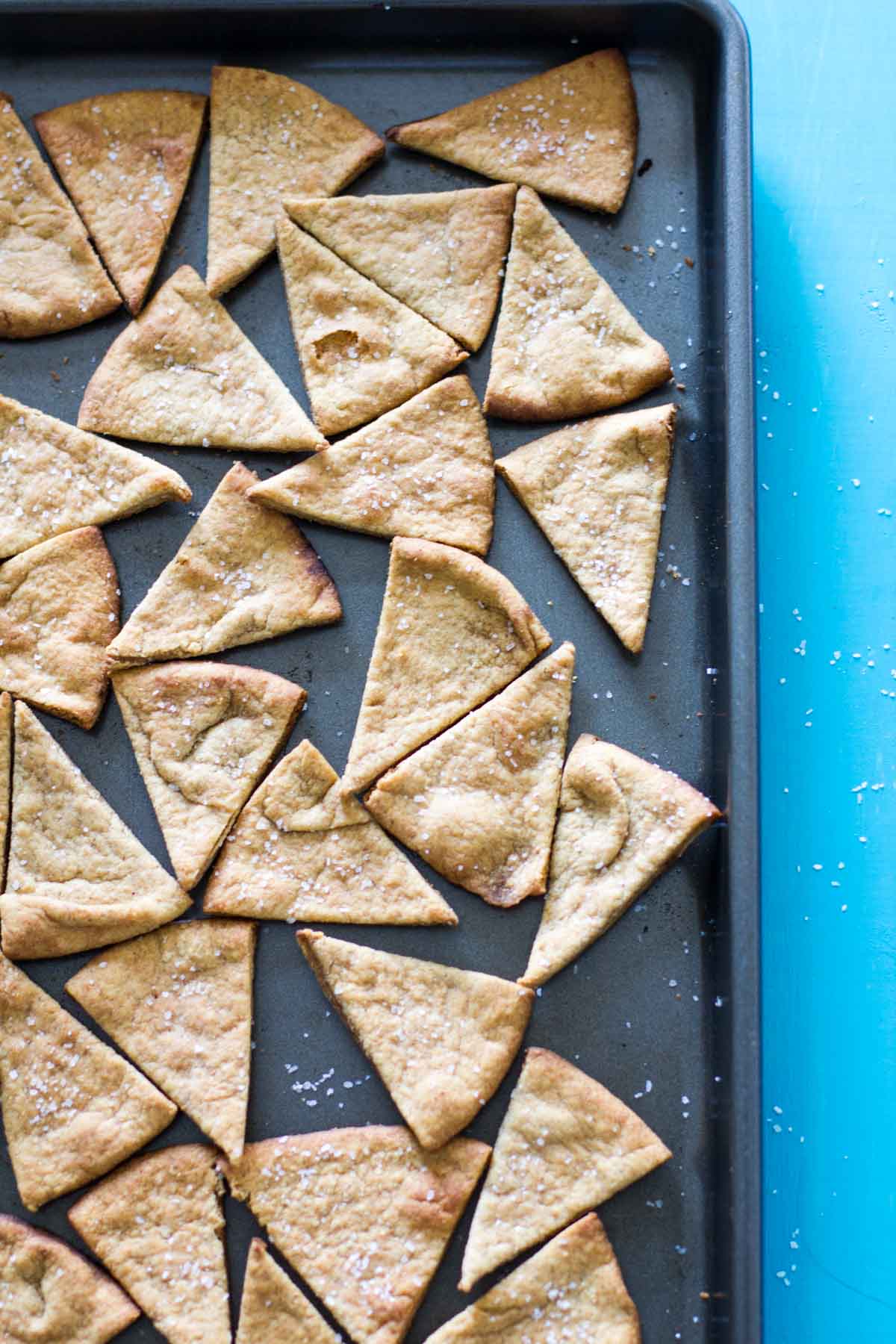 So, here it is! My tried and tested home-made pita chips – Thick, Crispy, Crunchy and Salty! So much better in flavor and texture than the store-bought ones I tell ya! And did i mention it requires only 4 ingredients and 20 mins or less? Pita bread, olive oil, salt and some freshly cracked pepper. Thats it!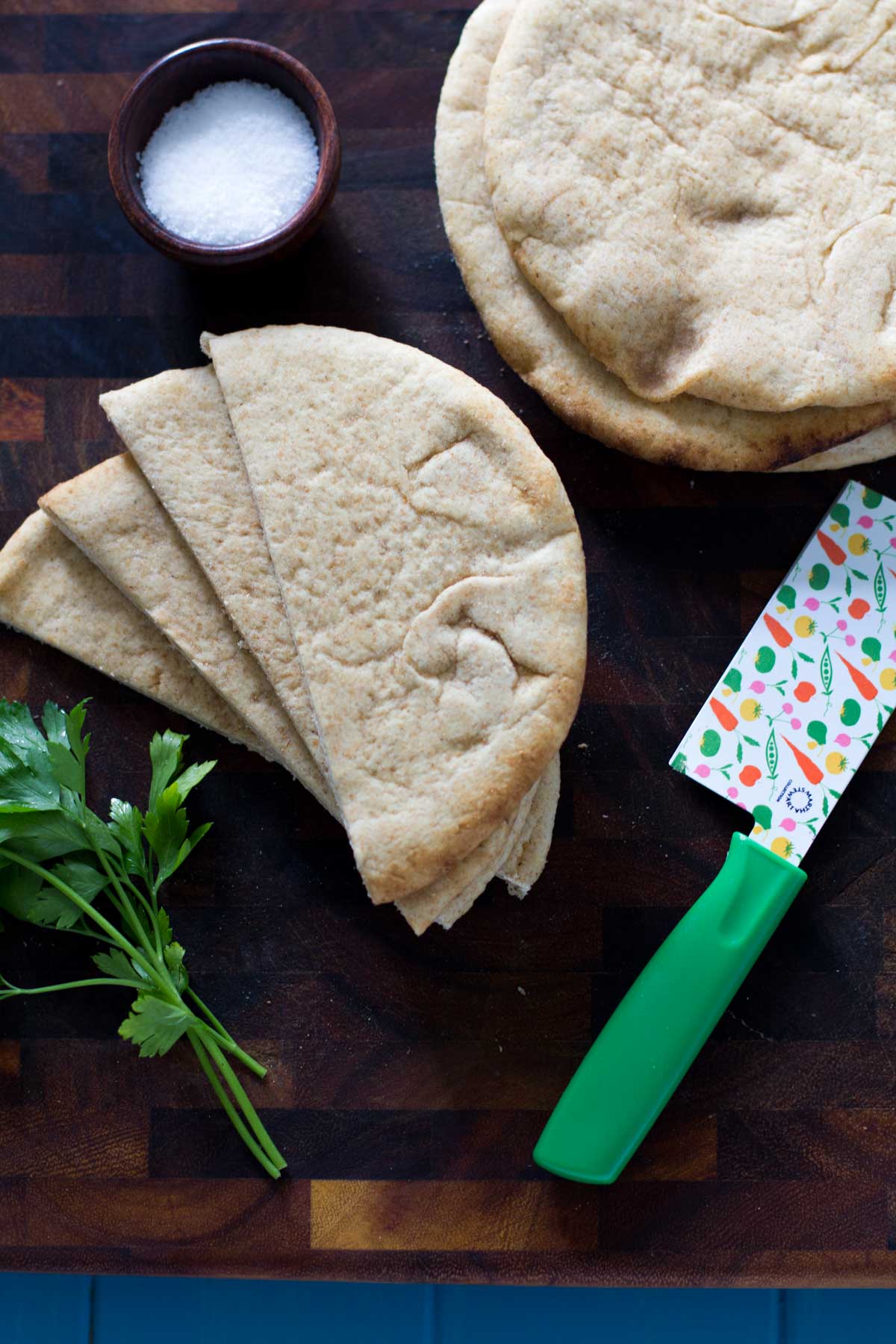 Though taking time to brush each individual piece with oil is cumbersome but as a result you will get more crispier and crunchier chips. I have tried my fair-share of failed attempts at making these chips. Anything from brunt chips to soggier, not crispy enough ones! Dumping the pitas wedges into a bowl and coating them all with oil doesn not yeild satisfying results. I prefer brushing method – a lil time consuming but very well worth it.
These pita chips can be seasoned with just about any spices and dried herbs you like –  garlic powder, oregano, herbes de Provence etc. You can even give it a sweet twist with ground cinnamon and sugar mixture as well.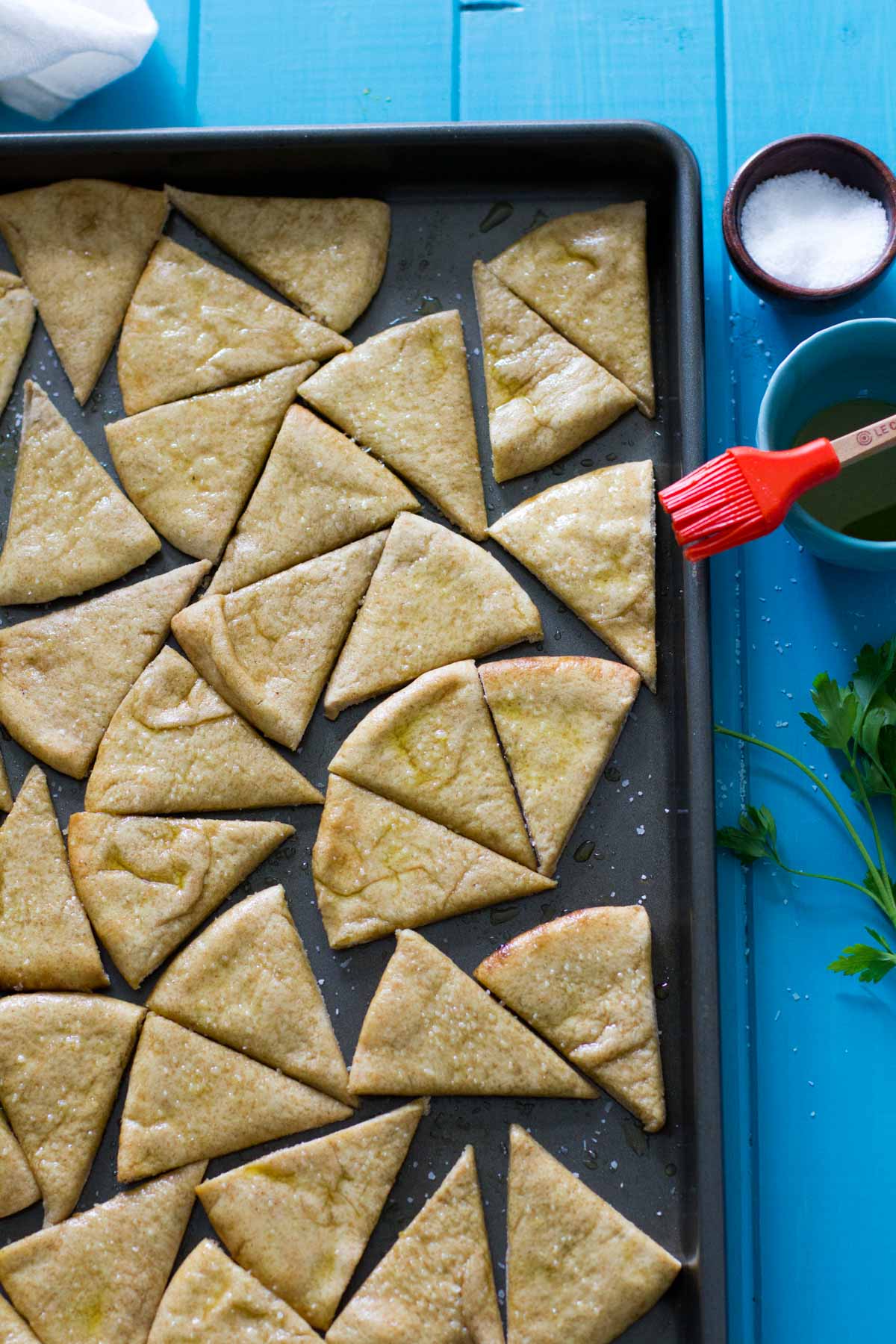 These chips doesnt require much preparations and no oil-mess of deep-frying.  Just baked to perfection with that slightly salty/pepper-y taste…and So so addictively good!
I love eating mine with roasted garlic hummus, guacamole or some fresh mango salsa.  You can even cut them in square bite-sized pieces, bake and tooss them in salads, it elevates plain salads in an instant!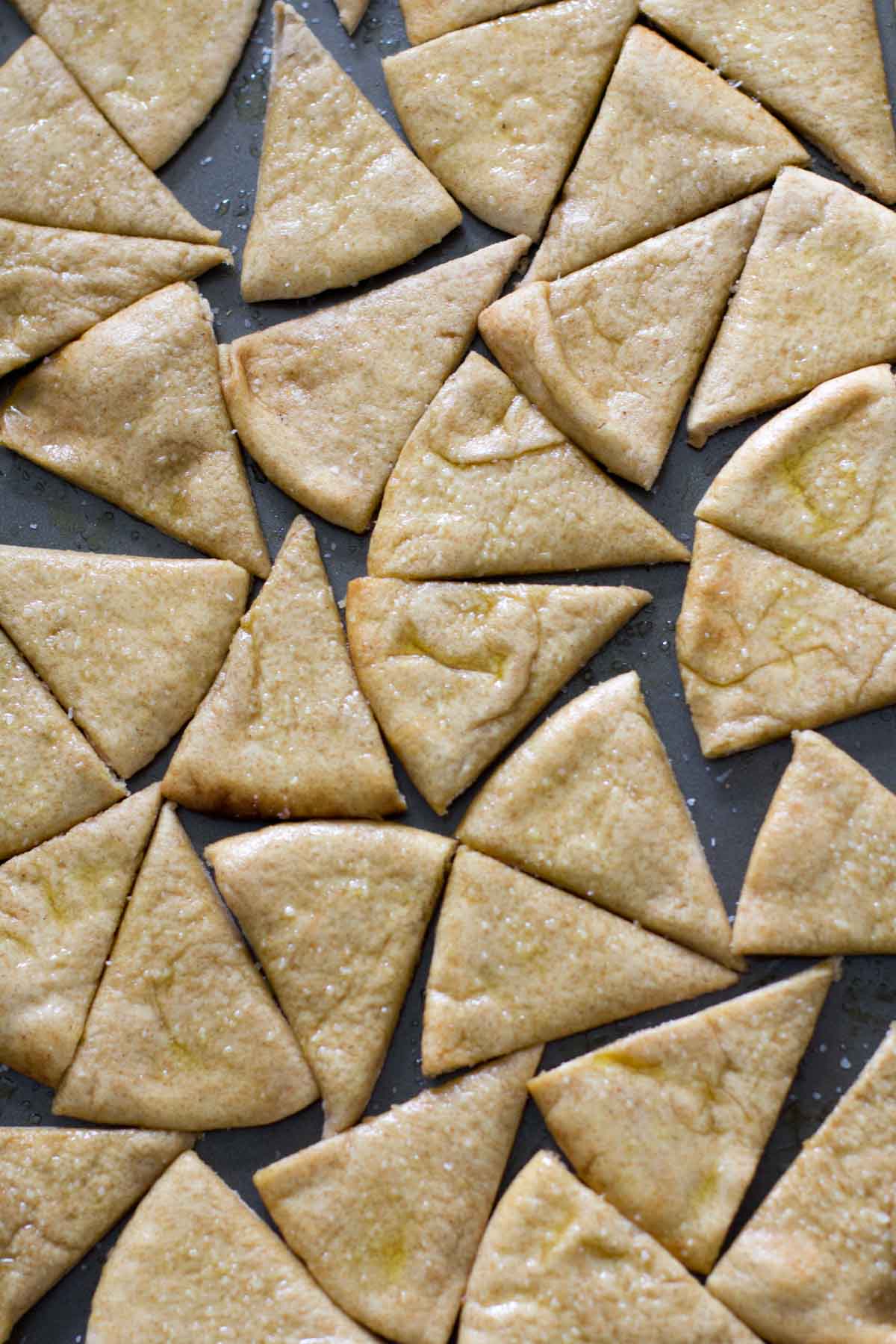 Serve with your favorite dips.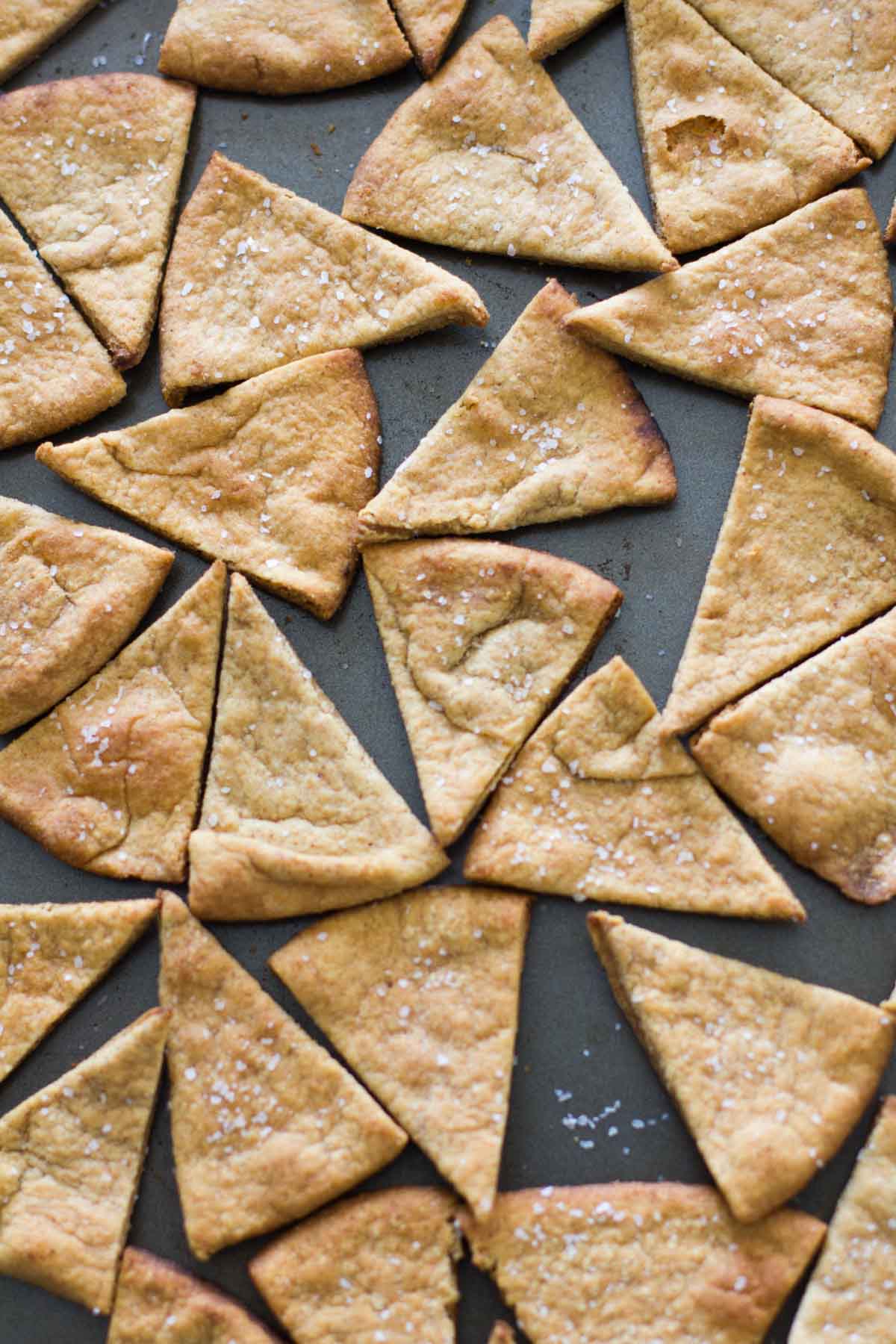 Homemade Pita Chips
Baked pita chips brushed with olive oil and a sprinkle of sea salt and pepper, perfect for dipping in hummus and the sturdier dips alike!
Recipe type:
Vegen Vegetarian
Ingredients
6 whole pita bread (I use multigrain ones usually- without pocket)
¼ cup olive oil, more if needed
½ teaspoon freshly cracked black pepper, more if needed
Sea salt or Kosher salt, to taste
Method
Preheat oven to 350°F and arrange a rack in the middle.
Line a rimmed baking sheet with parchment paper or a silicone baking mat if you wish to. Set aside.
Place the pita bread flat on your work surface and split them in half with a sharp knife (If pita is thicker than your liking), But If you are using thin pita then skip this step. Cut the pitas into 8 wedge to make 8 triangular wedges. Set aside.
Place all the wedges in one single layer on the sheet pan. I usually place them facing down first.
Using a pastry brush, brush the wedges with oil, coat it well and then sprinkle with salt and pepper.
Now flip them on the other side (in single layer again) and brush them with some more olive oil followed by a light sprinkle of salt and pepper.
Bake the pita chips for 5 to 8 mins. If your wedges were thick to begin with then it might take more time. Lower the oven to 300 F, remove from the oven and carefully turn the chips over and bake some more, but keep on check.
Bake until completely crisp and as golden-brown as you like.
Remove from the oven and let the pita chips cool completely before serving.
My Notes
If you do not wish to eat it right away, then immediately store them in an air-tight container after allowing them to cool off. Stays fresh for upto 1 week.

For gluten-free version, choose gluten-free Pita.

The pictures show only the addition of salt, not the pepper, but usually everytime I do add the pepper because the taste difference with very evident.