Its soup weather!!!  Soups are a regular feature in my house-hold, because I love that
creamy,
hearty,
thick n rich,
savory,
homemade,
hot and
comforting ....(the list goes on I tell ya!) feeling that soups give in the crazy Minnesota cold winter.  The moment I text him I am making soup for dinner, he comes home with a nice and crusty buggette in his hand!  The bonus being the fact that our next meal isn't just home cooked but health forward as well.  In today's post green split pea soup makes the appearance and steals the show If i may say so myself! *wink-wink*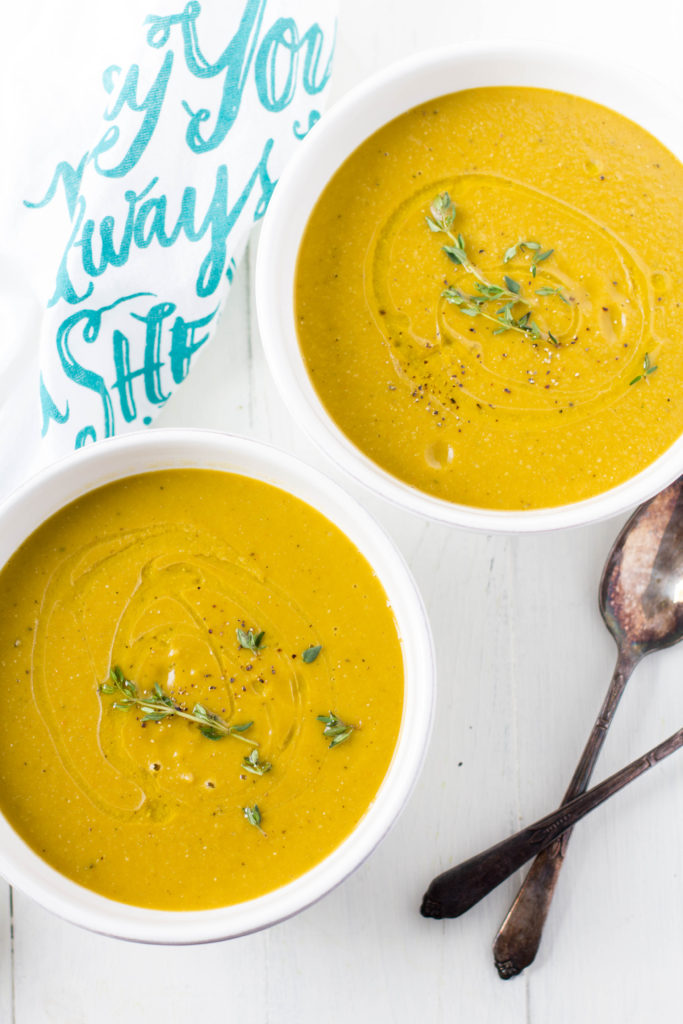 This Split Pea Soup have been an absolute favorite every time the temperature drops outside, but I am known to devour soups, this one in particular even in not so cold months, breaking into a sweat while eating it - its that worth it!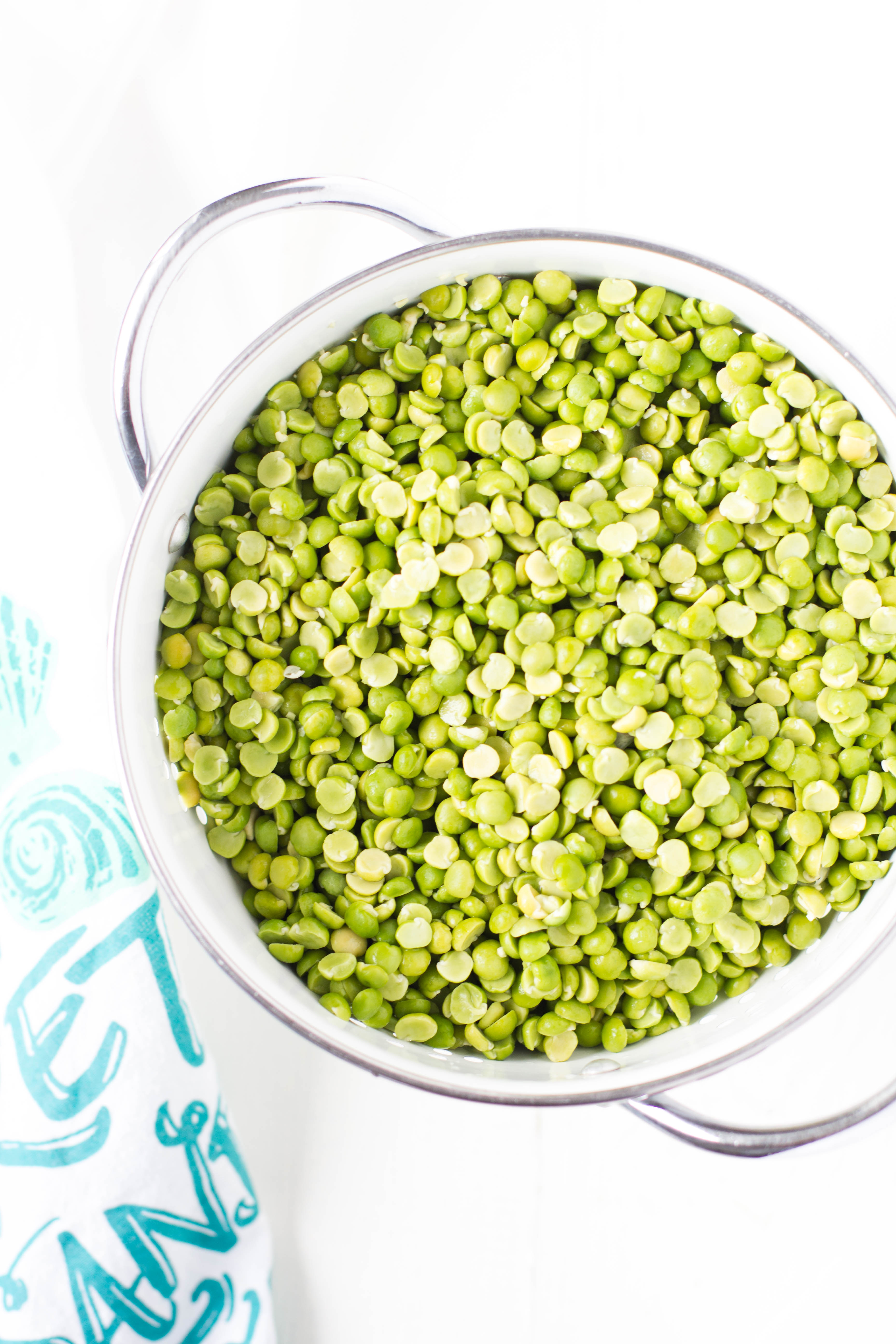 For any vegan or vegetarians - soups are a great source of protein and fiber, but this particular soup is equally filling and inviting for any carnivore too!  The green split peas may help you to main a healthy blood pressure.  Eating these may improve heart health because the fiber from split peas help to lower the total and bad LDL cholesterol which lead to reduced risk for heart disease.  The classic base of carrots, celery and onion create wonderfully mild flavor that infuses the soup even more.  Fragrant and aromatic garlic and thyme compliment the split peas further more.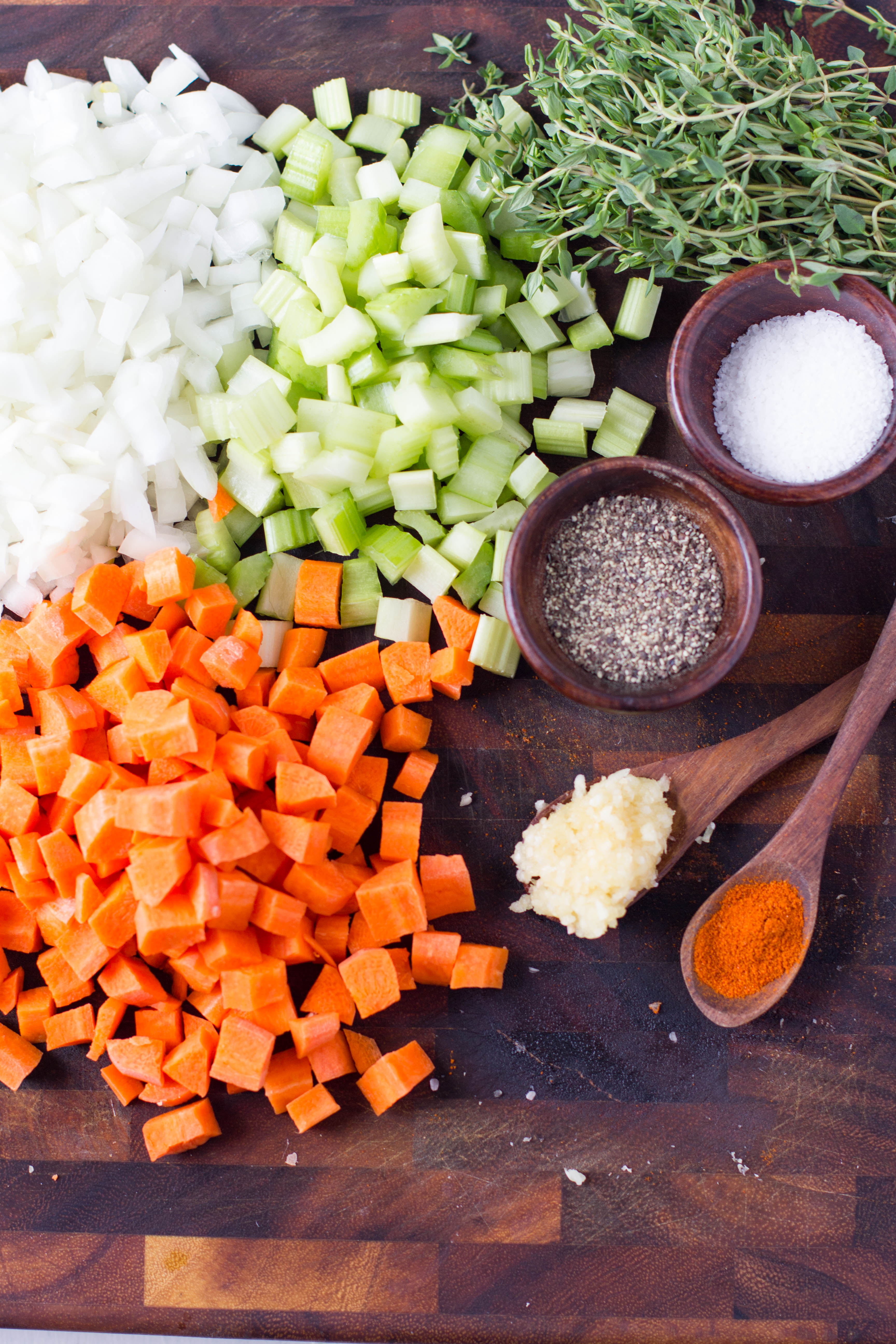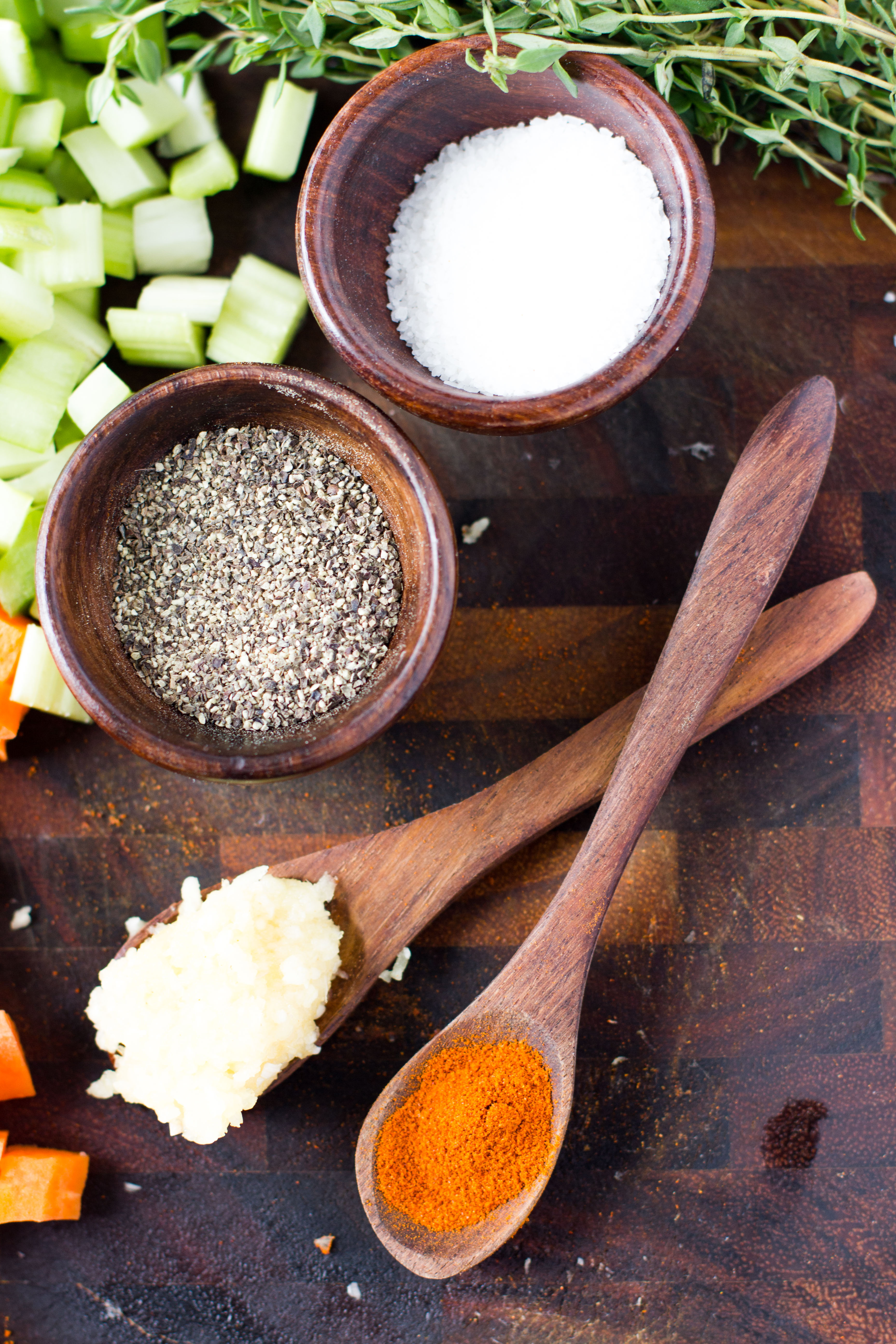 My
5 years
that I have lived here in Minnesota, I have tired my fare-share of vegan restaurants around here but I am yet to come across a good restaurant who serves decent vegan/vegetarian soups.  Most I have tried lack in big flavor. Recently I tried butternut squash soup which was awfully sweet that I felt I was having soup for dessert! Amongst all
Panera Bread
has been a special place for me to savor soups.  They have quite an array of soups that are vegan and vegetarian friendly and their phylosopy of
Food you can Trust
, knowing there aren't any preservatives or artificial ingredients in your food gives me a piece of mind while eating out. 
I particularly like how Panera served their black bean soup, very basic but so so good! But like how all good things come to an end, they seem to have discontinued it this year.   There was a time when for 6 months in a raw, without missing even a single Saturday, I would have that black bean soup, I was that obsessed with it lol.  Also they bake their bread fresh everyday, I love to get my bagel or baguette from them for the same reason. So when I crave a big bowl of soup, I love to turn to my kitchen because homemade soup from scratch is always best!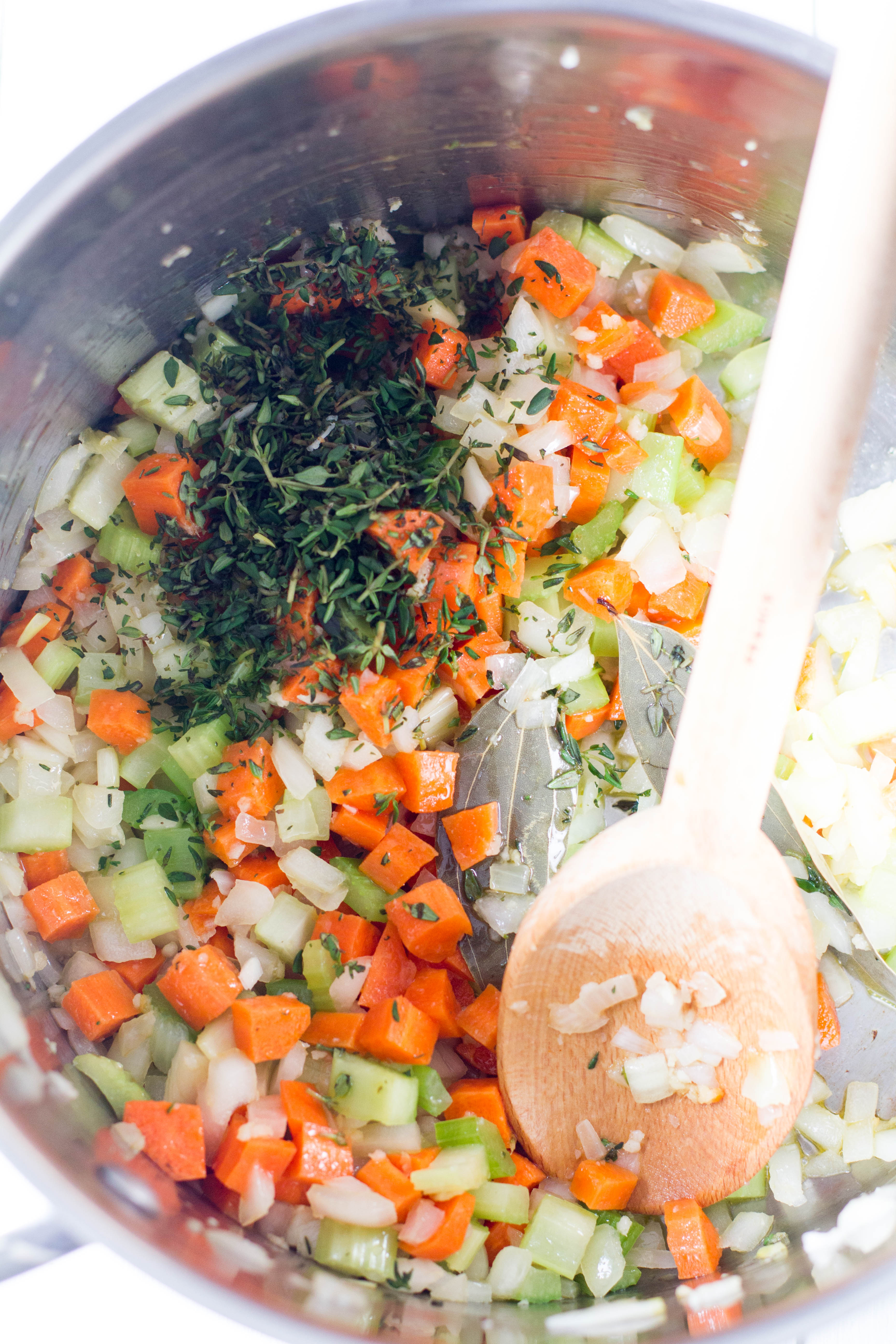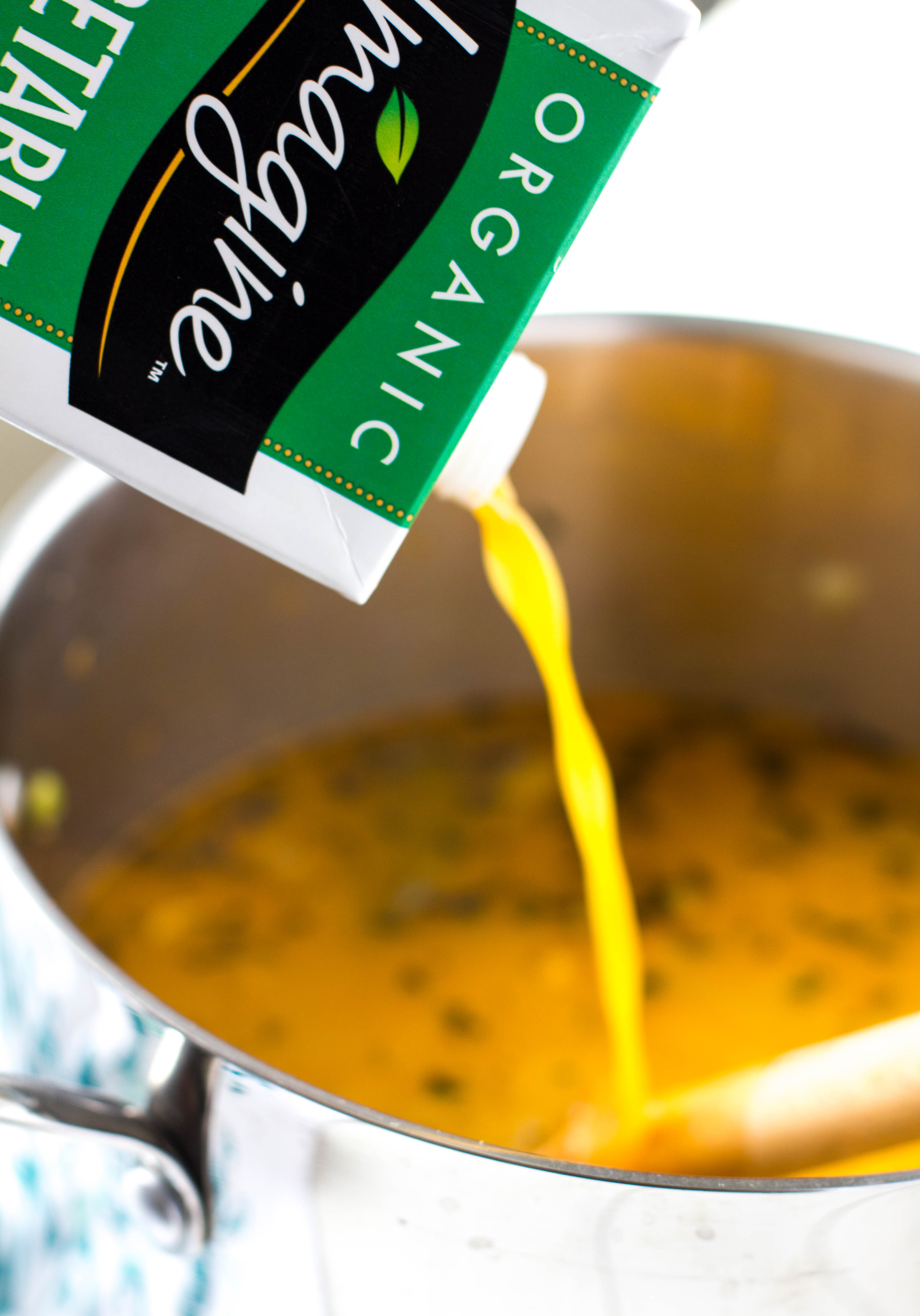 The dried green split peas can be cooked in multiple ways using a pressure cooker. 1) You can pressure cook the peas seperately for 20 minutes, then rapidly release pressure by opening the air valve. [ For traditional - first generation "Indian" style pressure cooker hear up to 4 whistles on high pressure] Then follow step 1 to 3 and after that add the cayenne, pepper and salt and finally add the vegetable stock. Simmer for 10-15 minutes and blend away if needed.  2) The other method is follow step 1 to 5 and adding all the ingredients directly in the pressure cooker, and Cook for 20 minutes on high pressure, then rapidly release pressure by opening the air valve. Open pot lid, stir contents until smooth, season to taste with more salt and pepper. If needed blend away and Serve.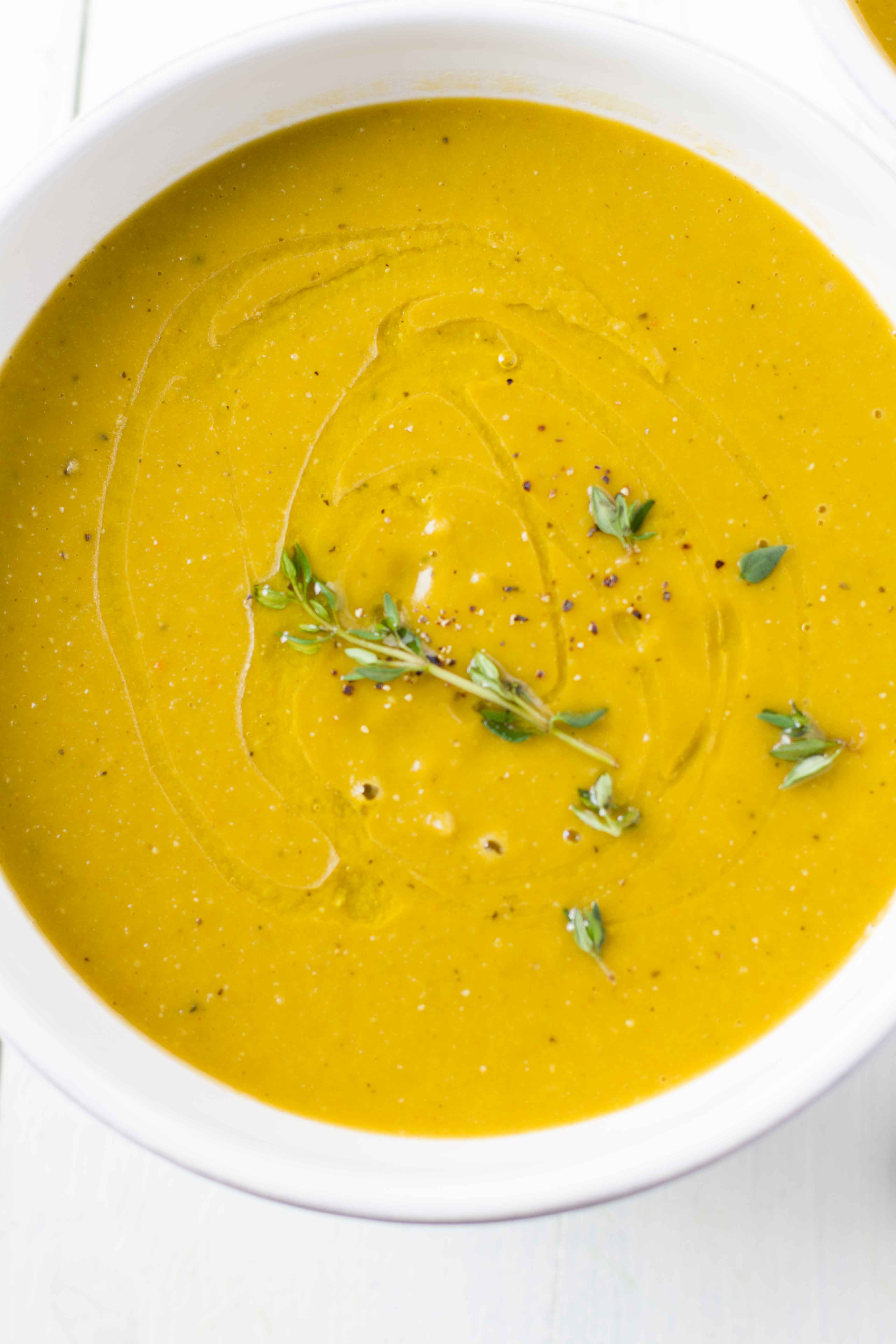 As opposed to the most veggie soups this will keep you full for longer due to the split peas providing enough body, protein and fibre.  Easy to make and all is done in that one pot. This ticks all the boxes in my books folks! 🙂  Add your favorite piece of bread or croutons with a side of a salad and you have yourself an epic little lunch or dinner to enjoy!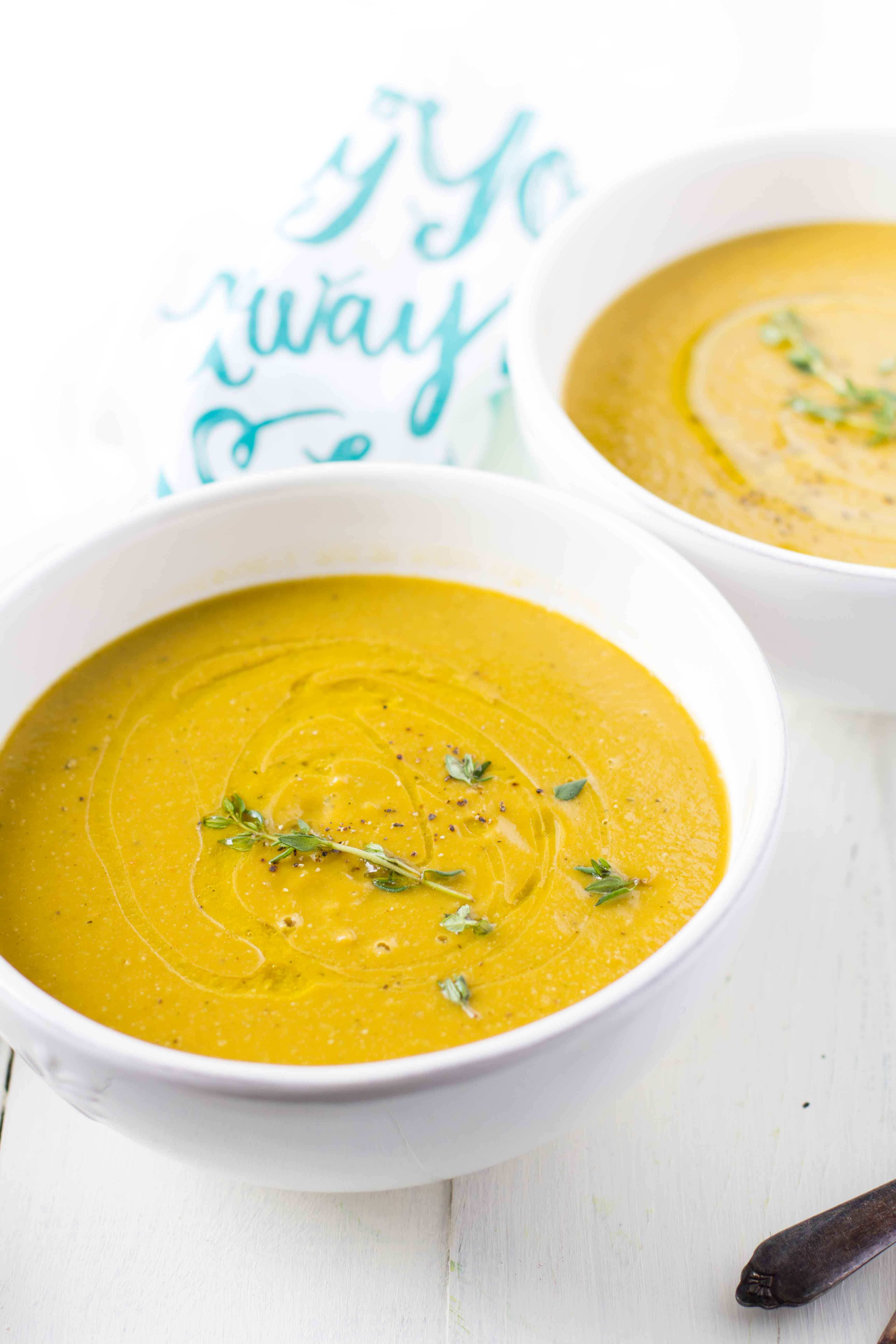 Easy Vegan Green Split Pea Soup
The classic soup gets a "vegan makeover" with fragrant fresh thyme and aromatic garlic! Its vegan/vegetarian, easy, very creamy, rich, hearty, comforting and over all a perfect winter soup with not more than 10 ingredients in it!
Recipe type:
Lunch- Dinner, Soups & Stews
Cuisine:
Vegan, Vegetarian, Gluten Free, Dairy Free
Ingredients
2 cups [16 oz./ 1 pound] dry green split peas, rinsed
1 cup or 1 large sweet onion, chopped
1 cup or 2 medium sized carrots, chopped
½ cup or 2 medium stalks of celery, chopped
1 ½ tablespoons fresh thyme, leaves stripped and finely chopped
2 tablespoons garlic, minced - [about 4-5 big cloves]
4 tablespoons extra virgin olive oil
2 cups water + more to soak the dried peas
32 oz. low sodium vegetable stock
2 bay leaves
1 teaspoon cayenne
½ teaspoon freshly ground black pepper
kosher salt, to taste
Method
In a medium bowl, take dry green split peas, sort and rinse them well. Soak them for at least 45- 60 minutes with enough water to cover them. [ Can also be soaked overnight ] Set aside.
Add olive oil to a large stock pot over medium heat.
Next, add onion, garlic and bay leaves and sauté until the onions and garlic leave the raw flavor – about 4-5 minutes.
Add in carrots and celery along with some fresh thyme and cook for another 10 minutes or until the onions and celery are translucent. Add couple of tablespoons of the vegetable stock to prevent the vegetables from sticking to the pan, if needed.
Pour in all of the vegetable stock, add soaked split peas along with cayenne, freshly cracked black pepper and salt (about 1 teaspoon to start with), and bring to a boil. Reduce the heat to medium-low and simmer for 40 to 60 minutes, or until the peas are cooked through and soft. [mine took approximately 40-45 minutes.]
Taste test and adjust the seasonings to your liking - add more salt or black pepper.
Remove the pot from heat, discard the bay leaves and with the help or an immersion blender blend the soup until smooth and creamy.
ALTERNATE METHOD - The method I that yields more creamer soup and I prefer the most is --- Letting the soup cool a bit and transfer it to the blender and blend away for 1-2 minutes or until smooth and creamy. [ For conventional blenders, remove the small center lid cap and cover the opening with a kitchen towel so steam can escape while you blend. ]
To serve, ladle hot soup into bowls, drizzle extra virgin olive oil, add a dash of cracked pepper and a spring of fresh thyme (optional).
Enjoy!
My Notes
To down size the cooking time you can pre-soak the dried peas in bowl with enough water to cover for half and hour.

When stretched on time, I pressure cook the split peas with enough water to cover and some salt. Let it cooks for 15-20 minutes and then add the boiled this peas to the sautéed veggie and spice+herb mixture and simmer for another 10-15 minutes and blend away to the soupy consistency.

This soup tends to thicken as it cools, to thin it out, add water in tablespoon increments when reheating. Can be reheated both in microwave or on stovetop.

Store in an airtight container for up to 3 to 4 days in the refrigerator.