Let me just begin with saying " There is no right or wrong recipe of Guacamole" .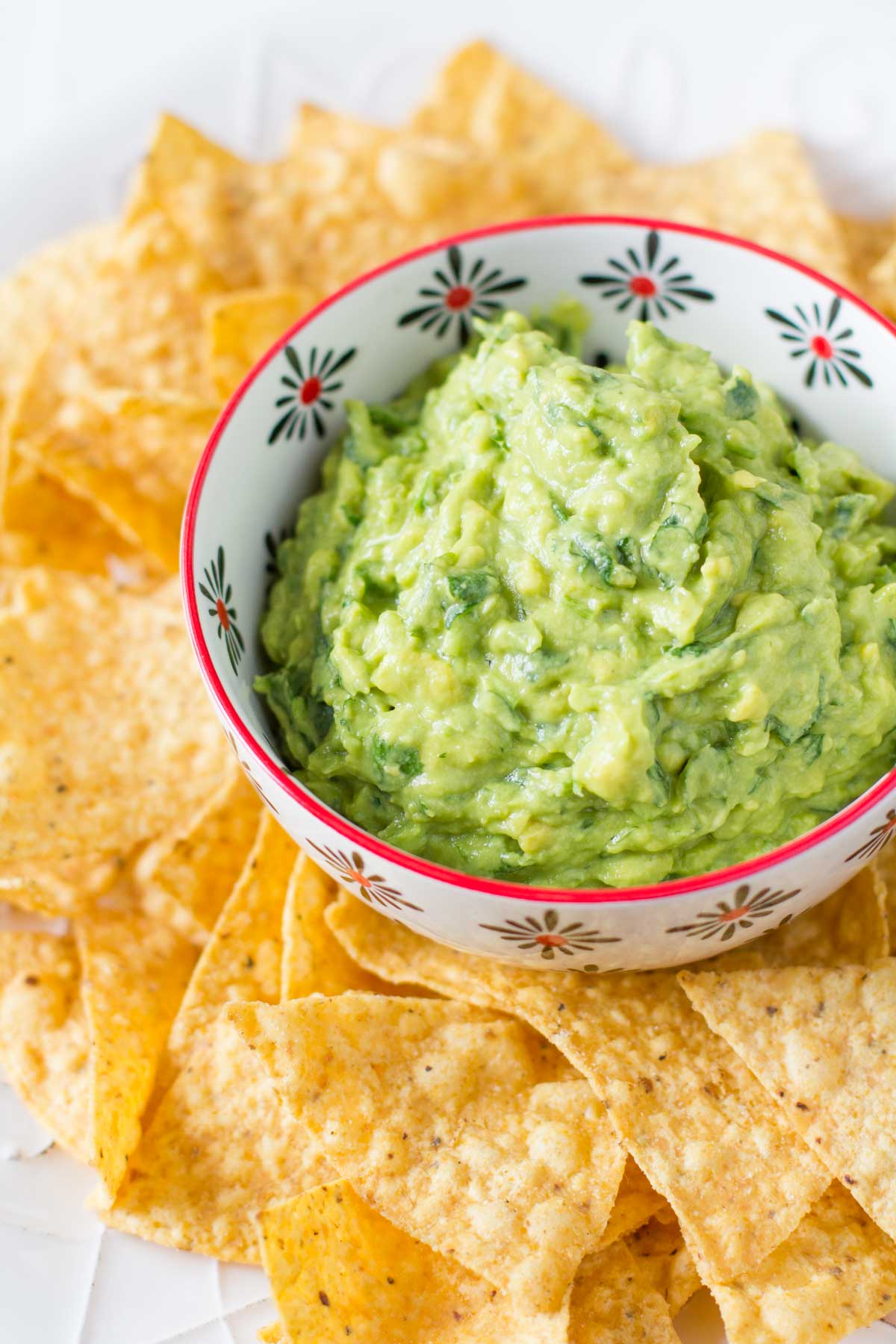 Say What??! Then why am I here talking about recipe of gaucamole you ask?  To this i would say – This is kinda my version of Guacamole, which I have fed to friends and family and numurous get-togethers with a success and so it sure does deserve a post of its own!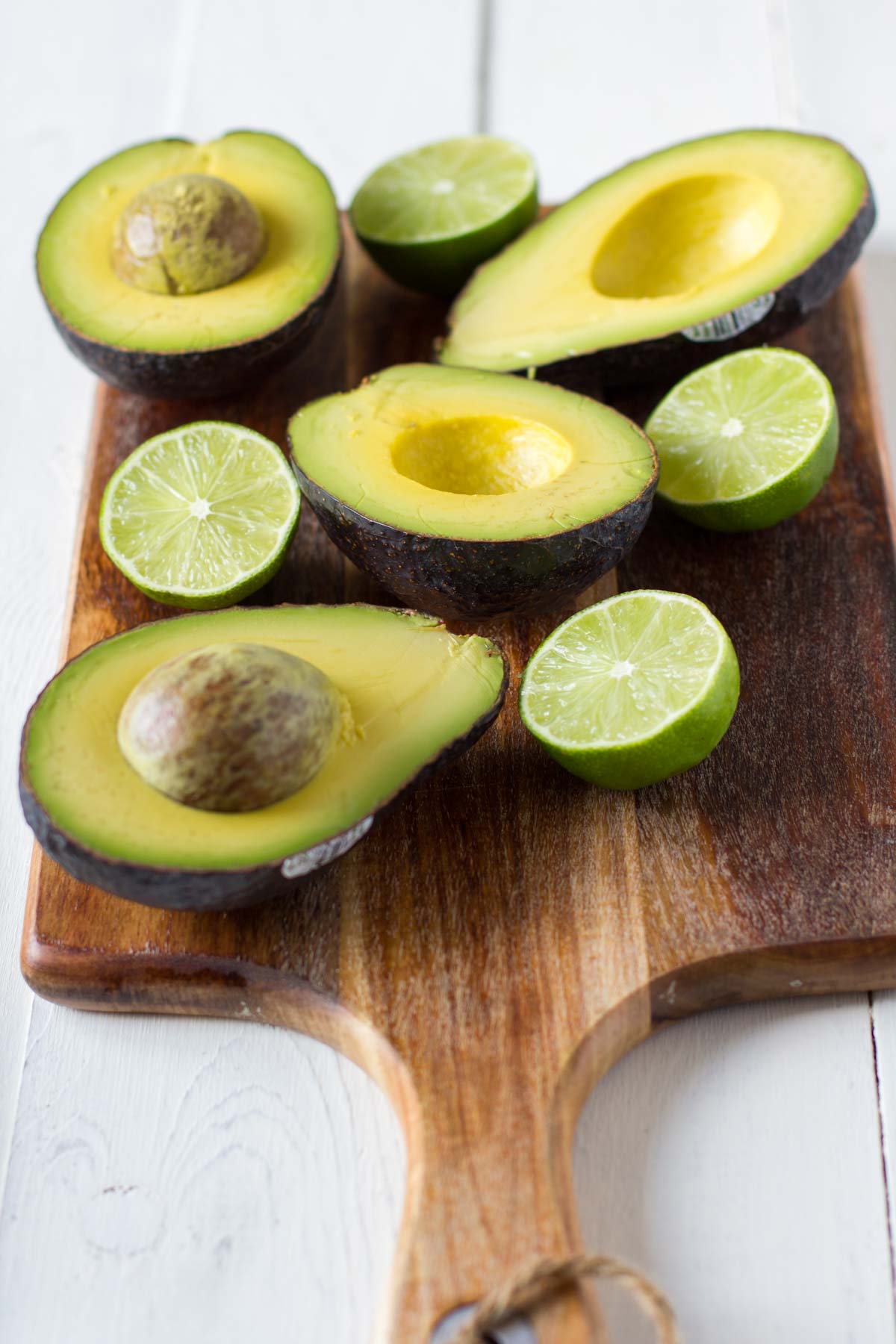 First of my guacamole doesnt have tomatoes.  I feel it makes the guacamole quite watery. Two of my Mexican decent co-workes mentioned that they do not add raw garlic to their's but some people do enjoy garlic in their's. I do not add garlic as because the raw garlic taste is no winner in my eyes when it comes to serving apetizers.  Same goes with onion but I do add finely chopped red onion on some occassions but not most of the time.  If you would want to add the onion, opt for 1/4 cup finely chopped red onion.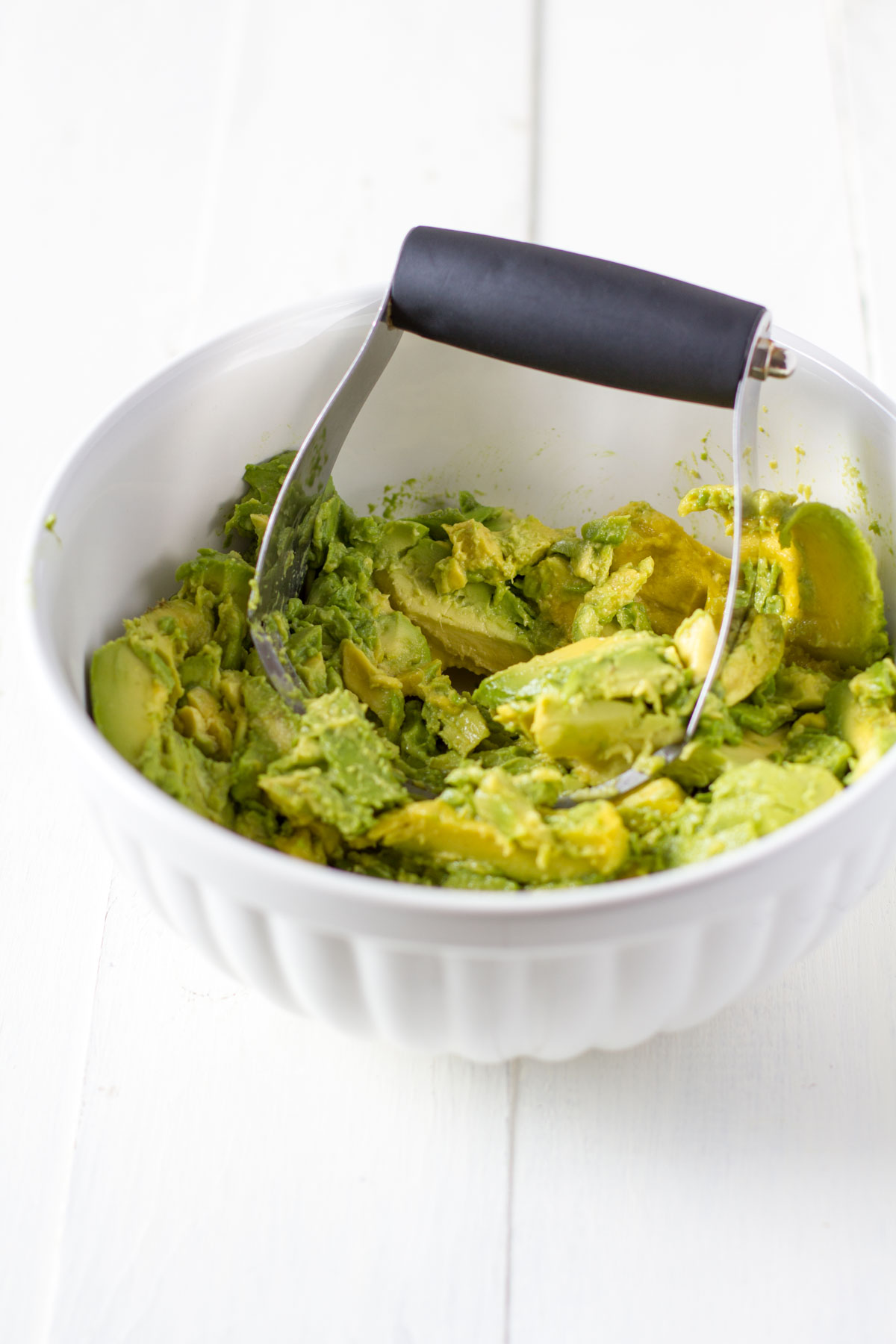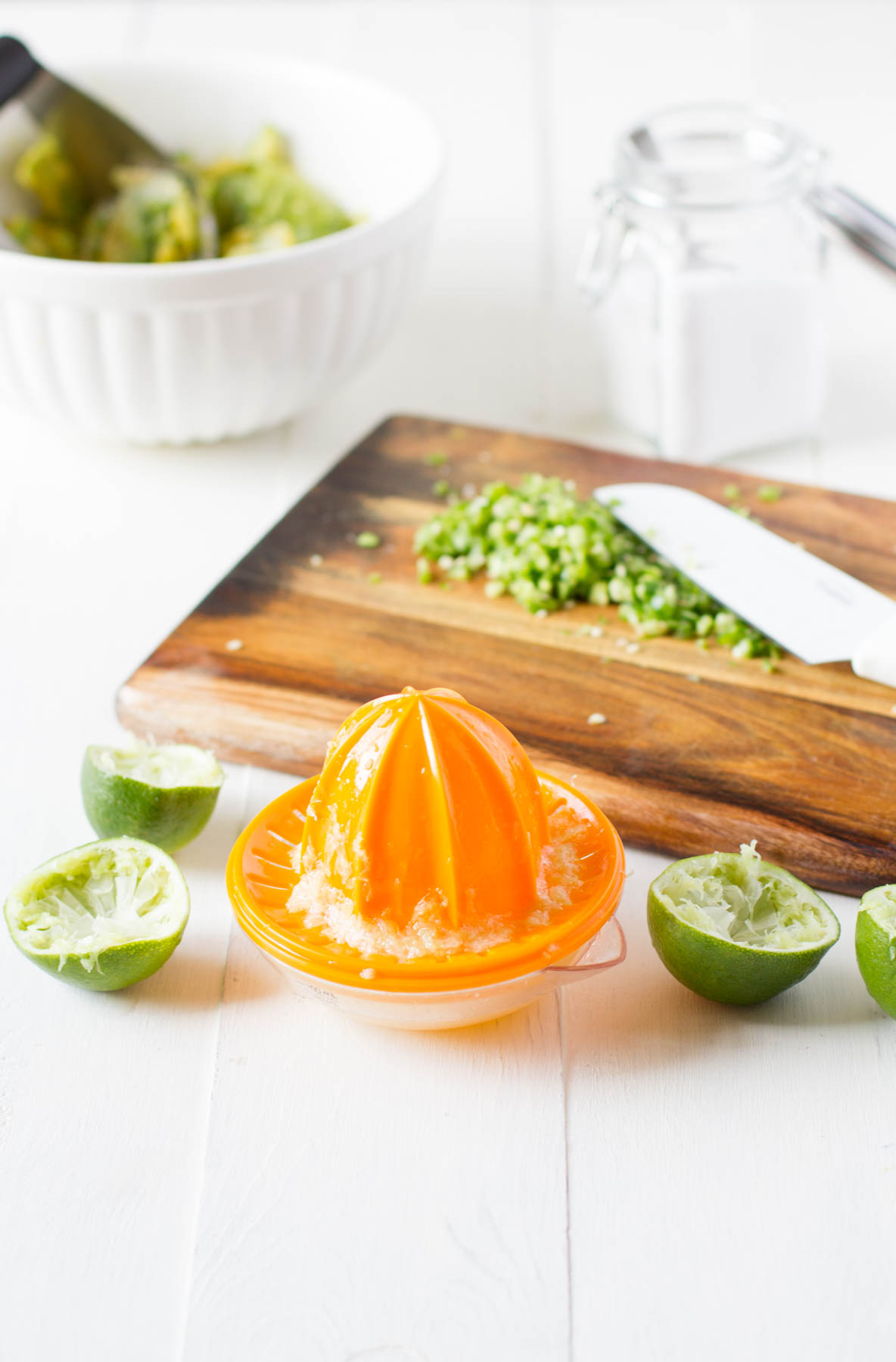 Next, The star of the recipe – Avocados – should not be mashed way too much.  This is not the time to take out your food processor. Big no-no! When you cut open the avocado it has two shades of green, one more yellowish than the other and you shoulud be able to see both the shades intact with few chunks left here and there when you are done mashing it up. DO NOT OVERMIX!  I personally love to use Pastry cutter – It is my best friend when it comes to mashing and smashing avocados.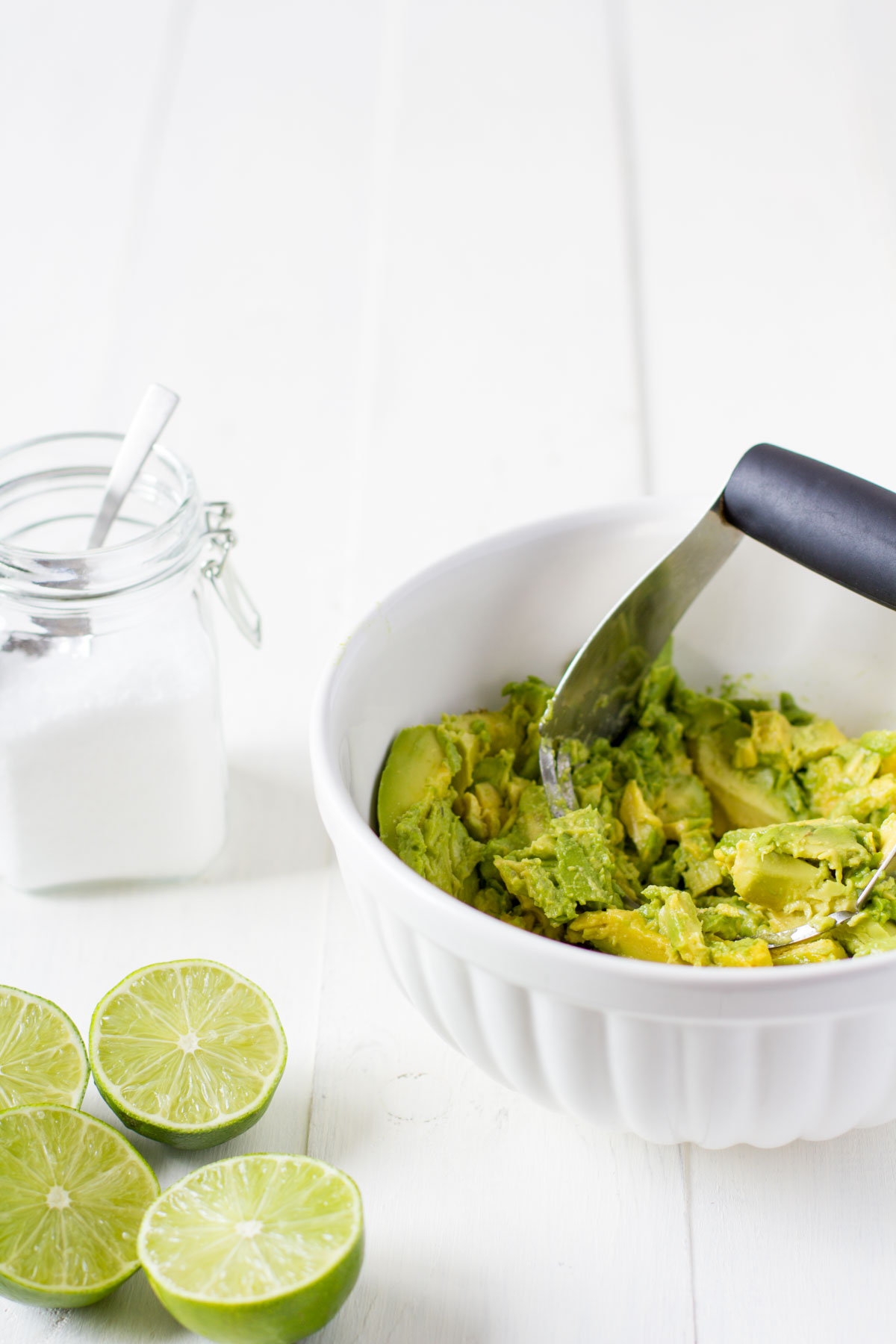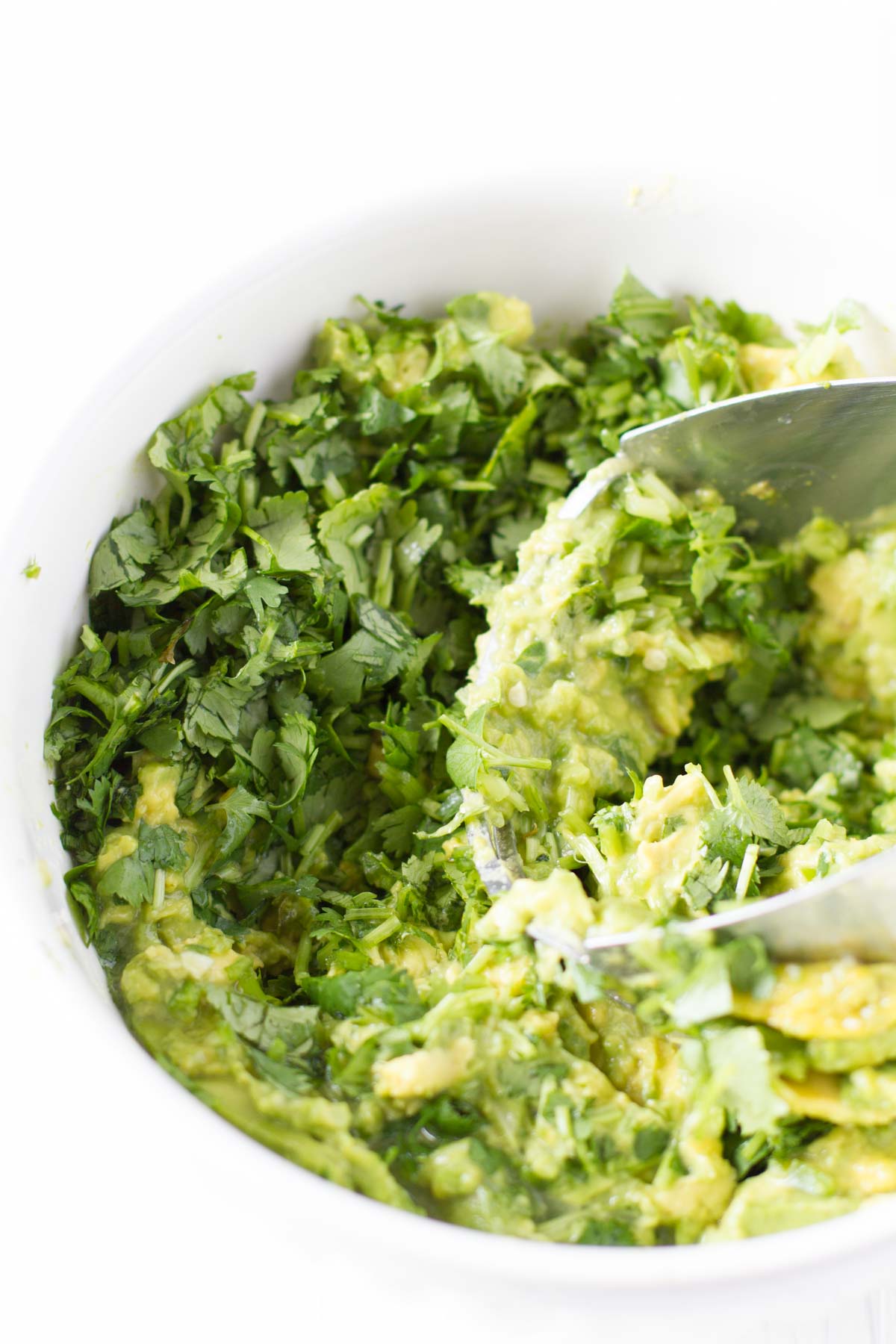 Also, there is no guacamole without citrus, especially LIME – a lot of it!  I can not stress enought about the usuage of lime. Lime enhances the rich buttery texture of the avocado beautifully but also keeps the mashed avocado stay green and fresh looking. If you want to do half and half of lime and lemon, that results in a beautiful medley of flavors too.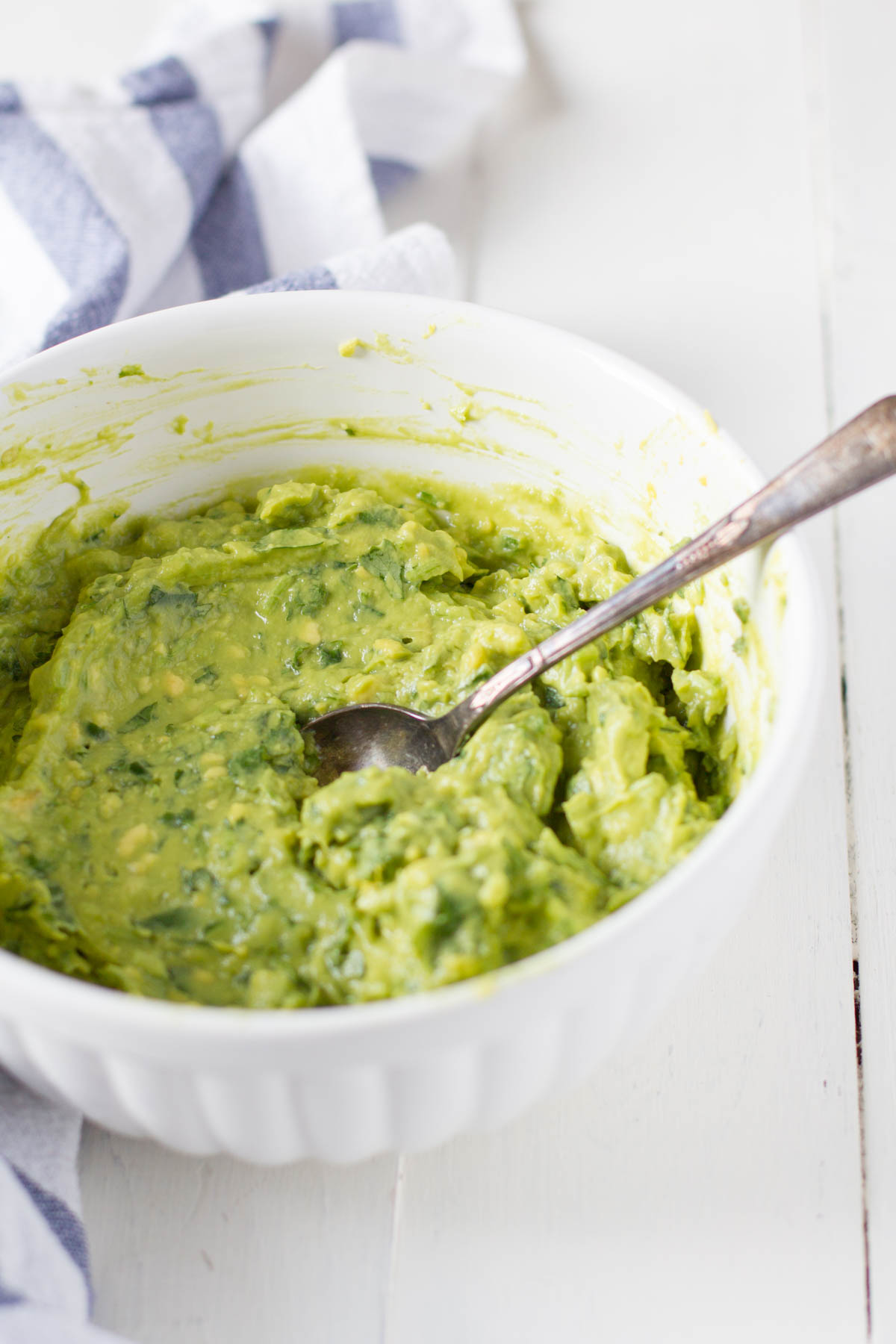 To pack spice and flavor I use either Serrano or Jalapeño peppers.  I would reccomend to add less chile with seeds rather than more chile without seeds.  Though the prefence of spice and hotness is personal.  I usually start with 1 finely chopped chile (with seeds and everything) and then go ahead to add one/half more.  The seeds add a bit of crunch factor and texture as well.
Last ingredient but not the least- Cilantro! oh how I adore you cilantro –  that I even named my blog after you!! 😀 ….. I like my guacamole to have lots and lots of cilantro along with more zesty lime.  I add about 1 small bunch – approx. 1 cup of cilantro, thats one hefty amount of  cilantro in guacamole but it packs so much flavor that you have to try it yourself and see.  I also chop up the upper stems or stems that are not so woody, I chop them very fine and add it along with everything else.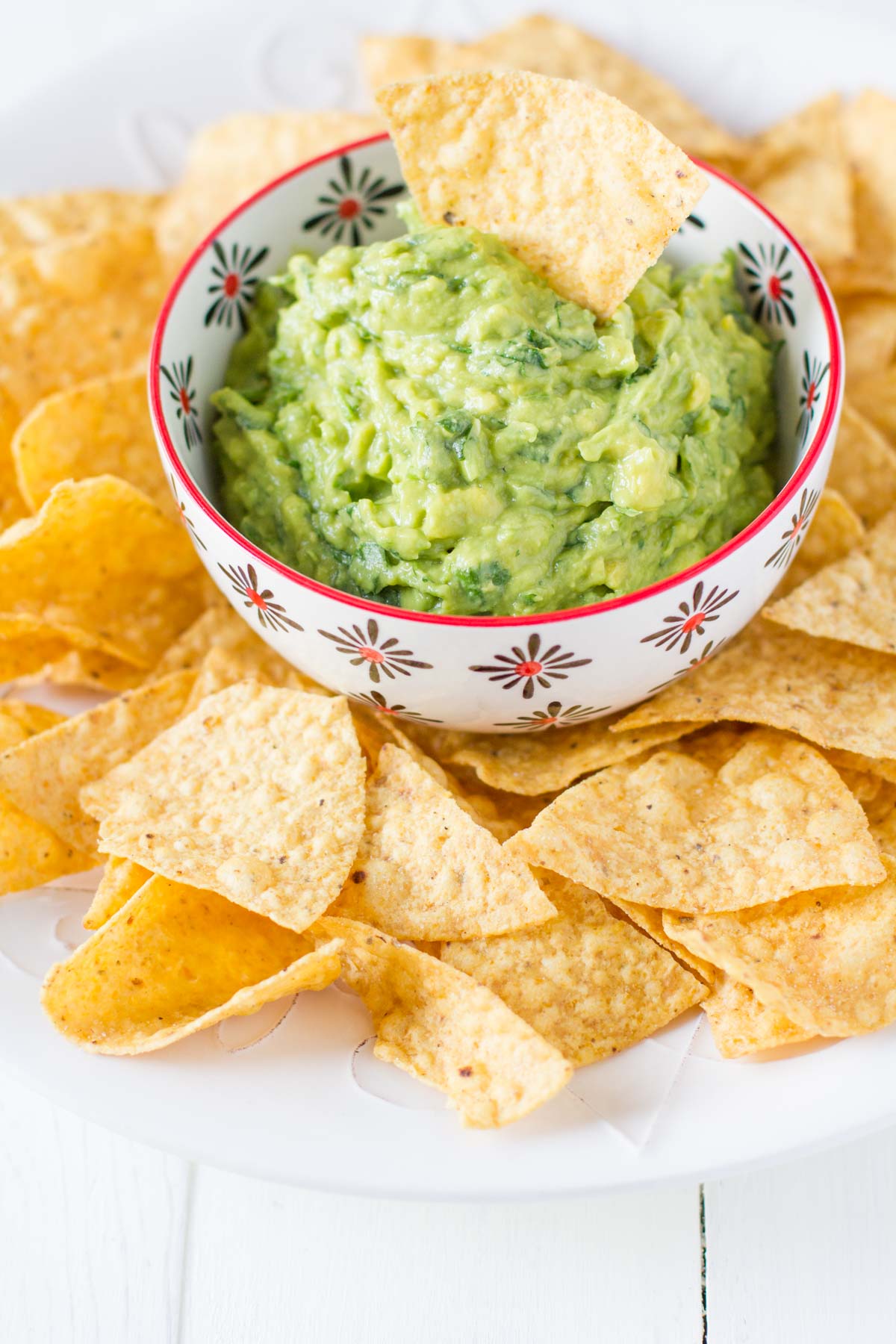 And above all when you begin, always start with less amount of chiles and salt, sample and adjust according to your taste buds.  I avoid using measuring spoons and cups when it comes to guacamole, I usually eyeball it and taste-test it as I go.  But since I have made this a gazzilion times, the amount I have mentioned here works fine.  Ofcourse, the ripeness of avocado and texture varies widely and should be considered when making perfect guacamole.
Quick and Easy Guacamole
Quick and Easy Guacamole recipe that packs a punch with zesty lime and fresh cilantro in under 10 minutes.
Author:
Urban Cilantro | Bhumi Jadav
Cuisine:
Mexican, Vegan, Vegetarian, Gluten Free, Paleo
Ingredients
2 medium to large ripe Haas avocados
½ cup cilantro, finely chopped (both leaves and stems)
3 tablespoons lime juice
1 to 2 jalapeño or serrano chiles, minced (more or less, to taste)
kosher salt, to taste
Method
Cut the avocados in half and remove the pit. Spoon the flesh of the avocados into a large mixing bowl and add lime juice.
With the help of a potato masher, pastry cutter or a fork start mixing and mashing.
Add remaining ingredients - chopped cilantro, peppers and salt and stir to combine well.
Sample and adjust salt and lime juice for more acidity if needed.
Transfer the guacamole to a serving bowl and enjoy with tortilla chips or veggies.
My Notes
Guacamole is best served fresh though can also be refrigeratd for upto 2-3 days. Transfer the gaucamole in a glass container and press with the back of the spoon as you fill. Then press the clear plastic wrap against its surface, this will help against oxidation (discoloration).