Winter in Minnesota gets extended over March…just when rest of the states are cheering for spring, winter in Minnesota says "here you go, take some more snow!" We had a bit of snow just a week back but today the temperature went up in 60s. And though I'm so ready to roll around for Summer, my heart can't say no a good bowl of soup! <3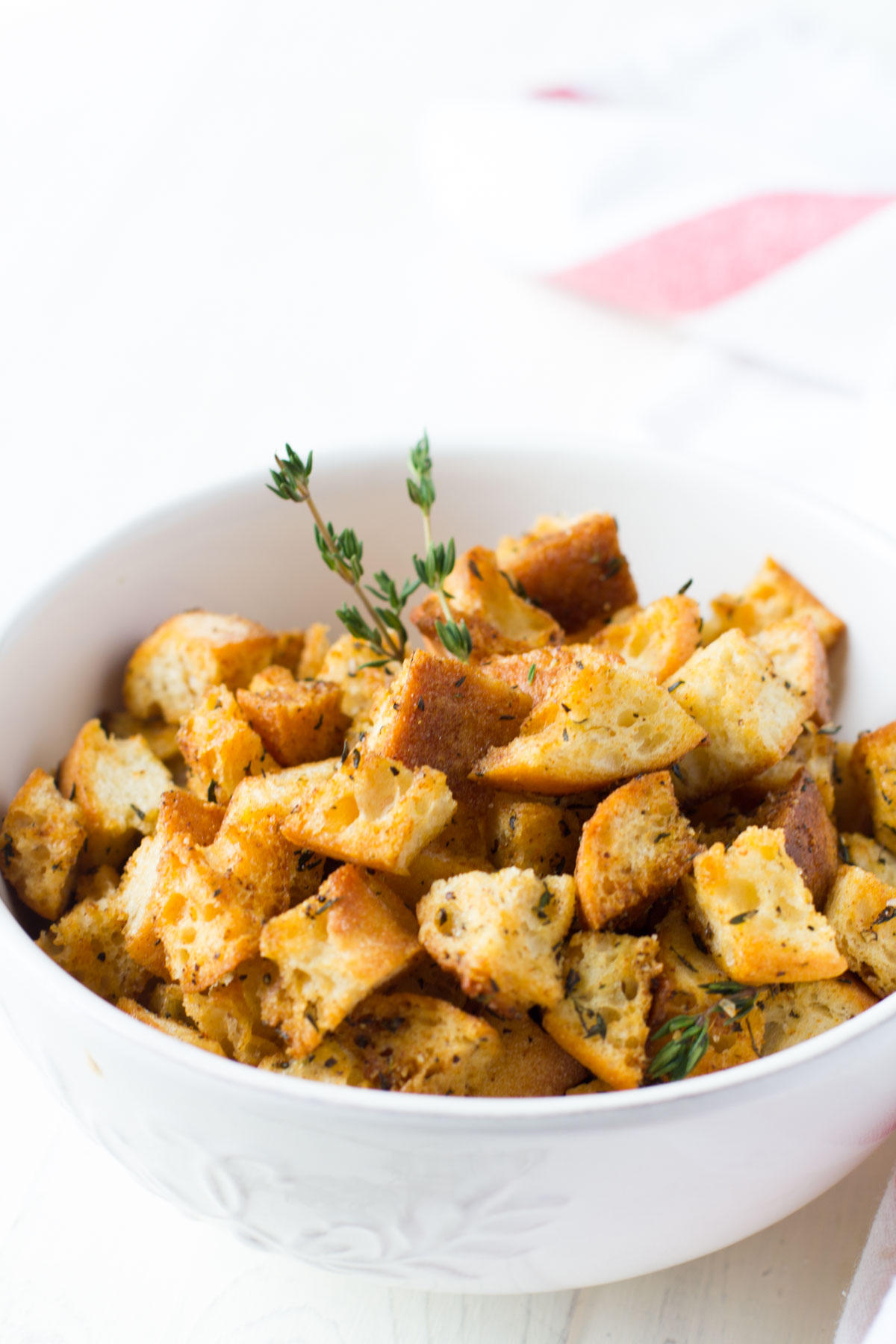 Often we buy a huge loaf of a nice crusty bread or a baguette to dunk into, but there is always some leftover. So instead trying to break my teeth with hardended bread, I cut it up into pieces, dress it up a bit and make homemade croutons!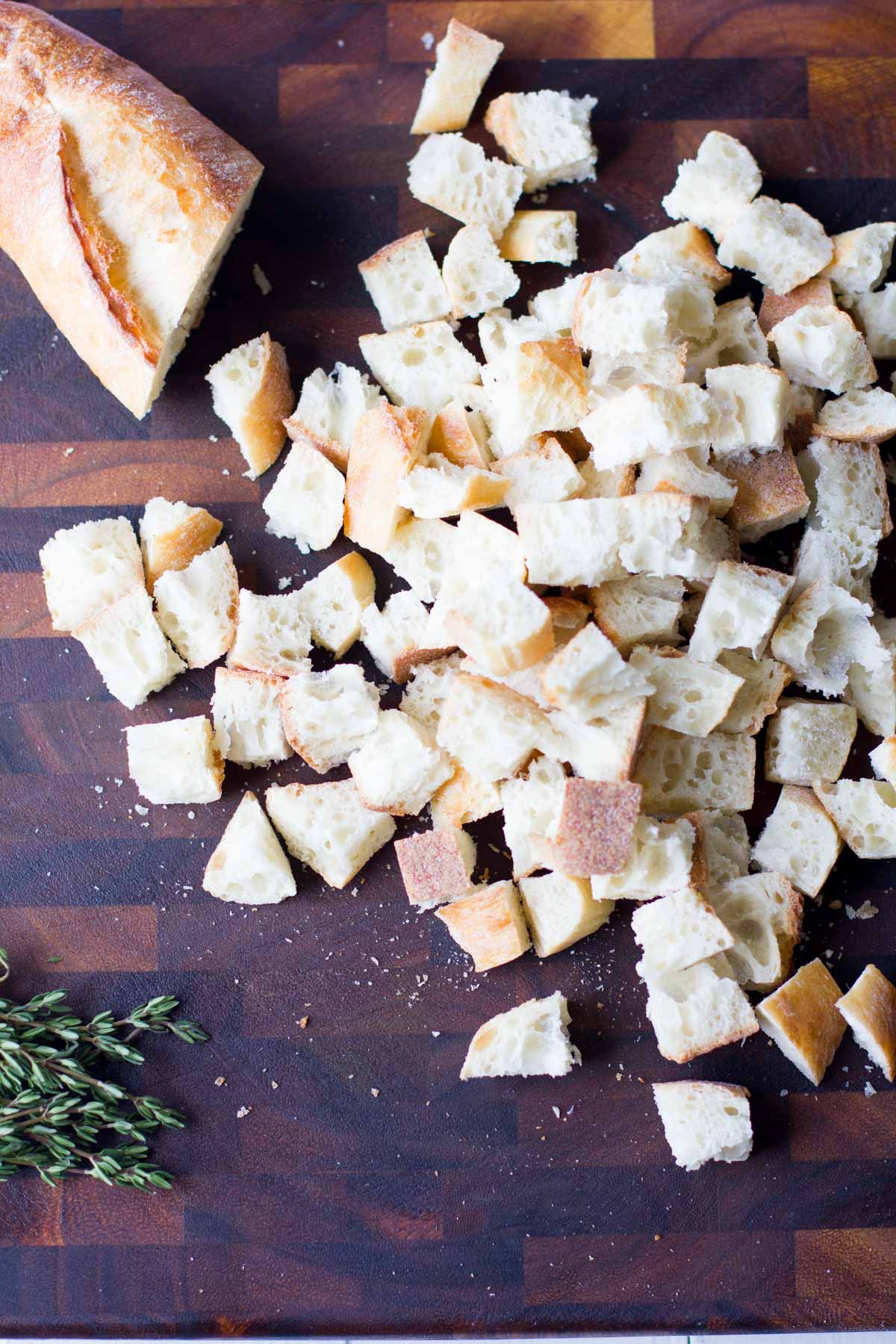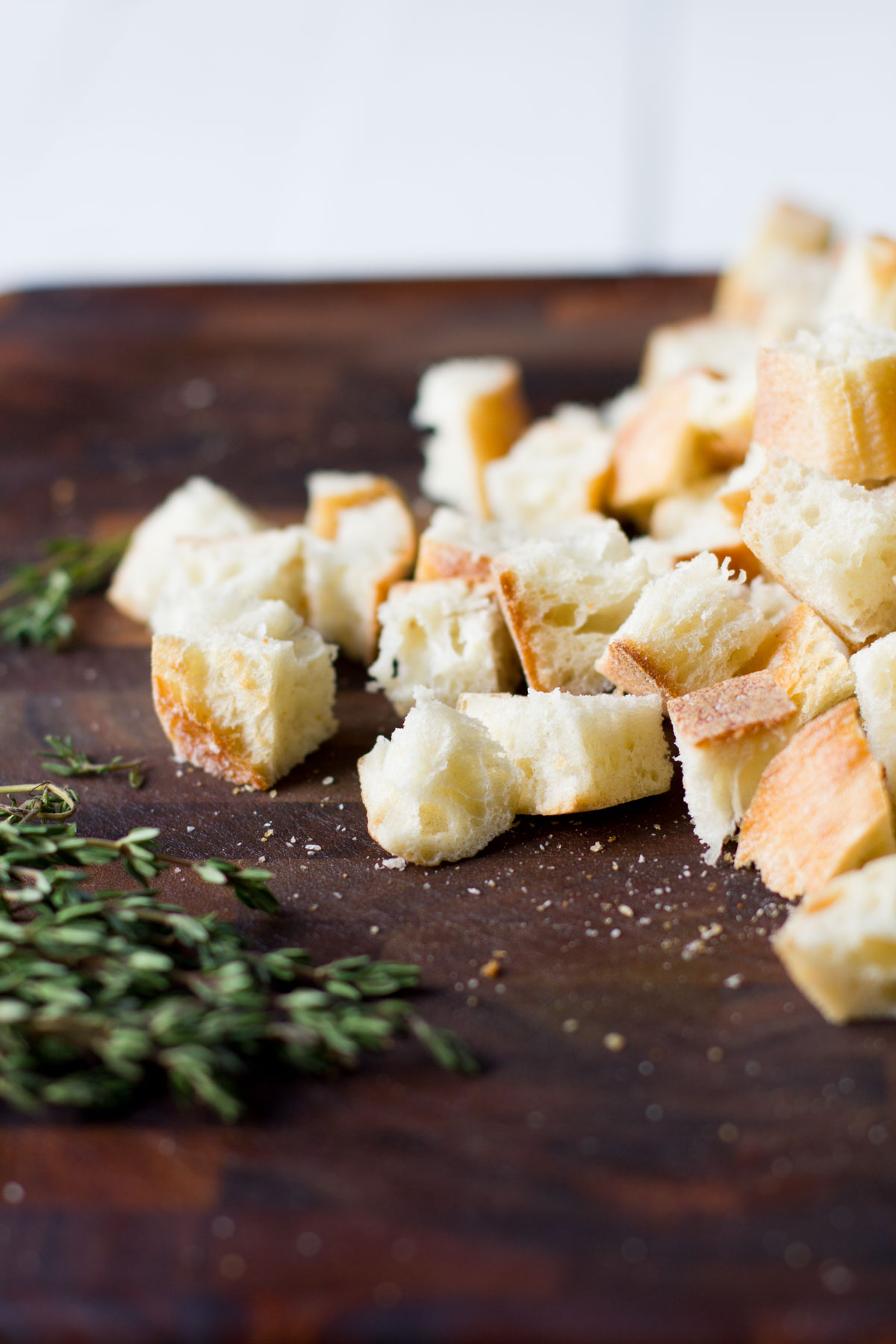 Homemade Croutons! So much satsfying than buying store-bought. Not only they are fresher, quick and easy but can be customized with a lot of different spices and herbs or just plain'ol salt and pepper!
Following are some simple pointers and instructions on how to make these delectable croutons to accompany to soups, salads and just to snack on.
BREAD —
Use any bread, but a day or two old "stale" bread for making croutons. Infact, making croutons is the clever way to use up any leftover bread. Fresh loaf of bread can also be used though. Use any type you like but sandwich bread yields too thin, soft and finely crumbled croutons. I prefer rustic, artisan-style loaf, something that is crusty from the outside and chewy from the inside is the best! Leave the edges or cut them off, I like to leave the crust on as it provides a variation of texture and crunch.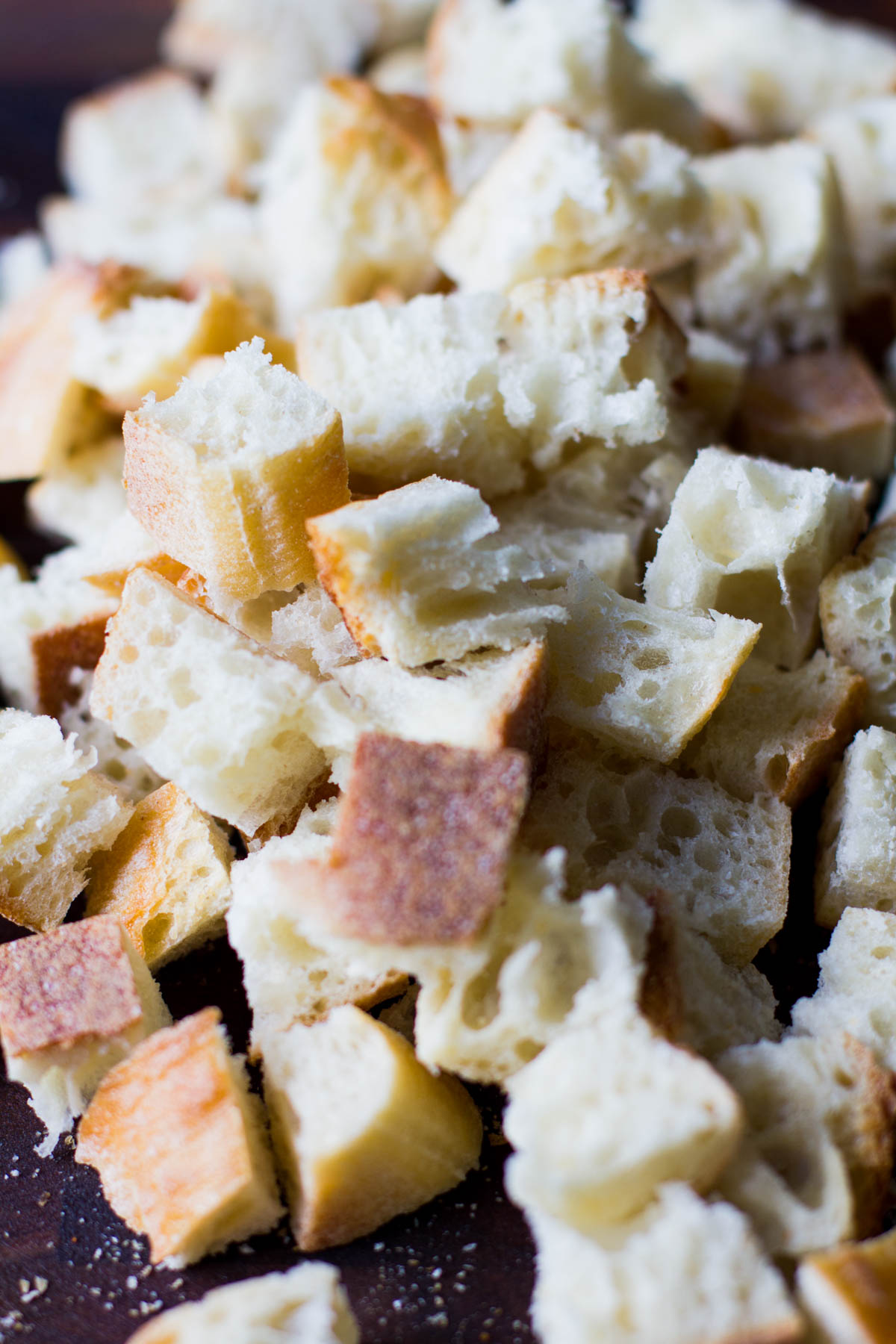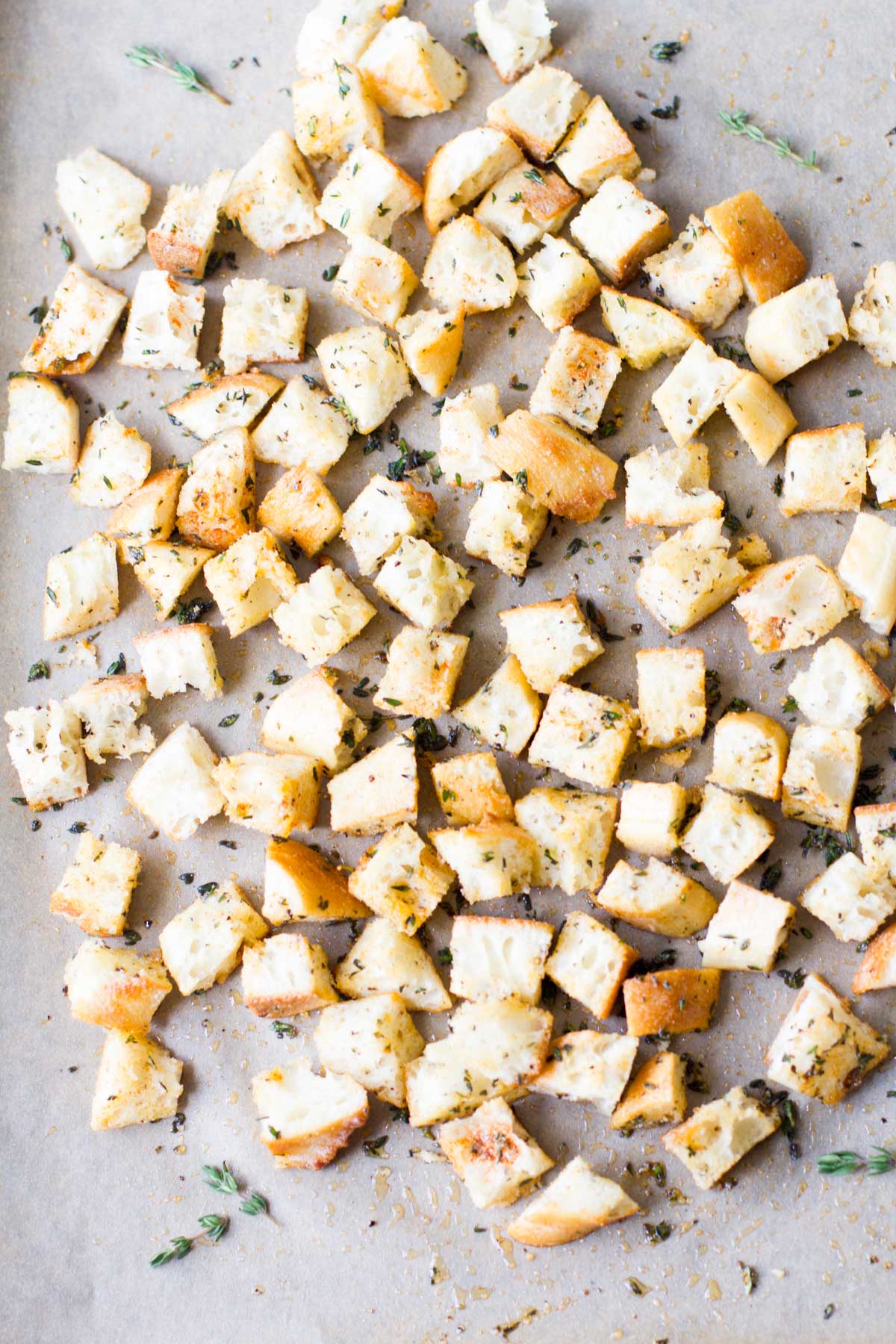 SHAPE and SIZE —
Bite size is best. But cut them how you like them, simply tear them apart for more rustic looking ones. If you prefer cubed version, cut them into 1 inch cubes and if you like fresh-style then slice a stale baguette thinly. There is no right or wrong way to cut them really!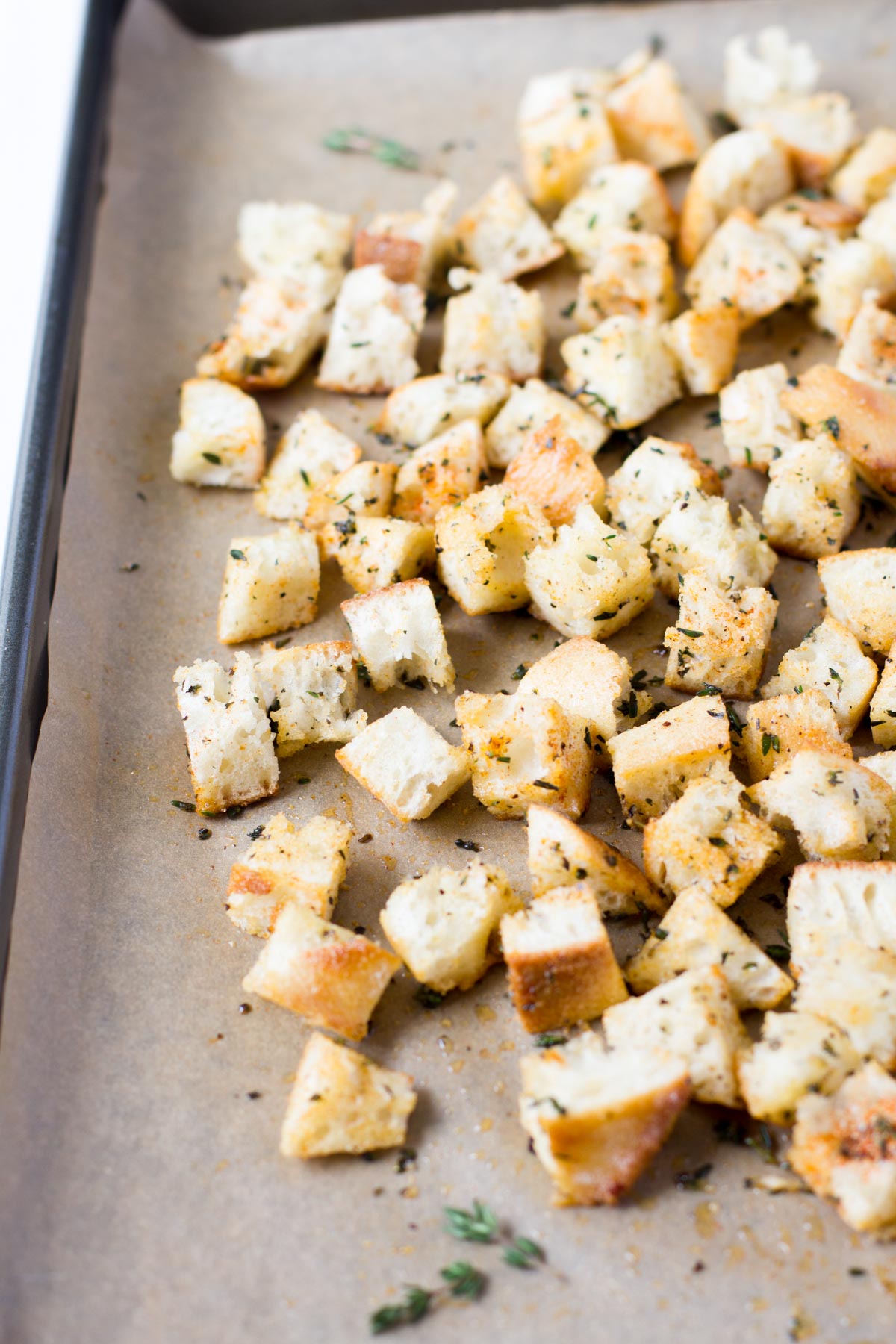 SPICES and HERBS —
Use the recipe I have provided. or you can replace with oregano, dried basil, smoked peprika, rosemary etc. If you want cheesy crouton, add grated parmesan cheese over the croutons just 5 mins before and toss around. Want to make the sweeter version? Sprinkle some sugar and cinnamon, possibilities are almost endless.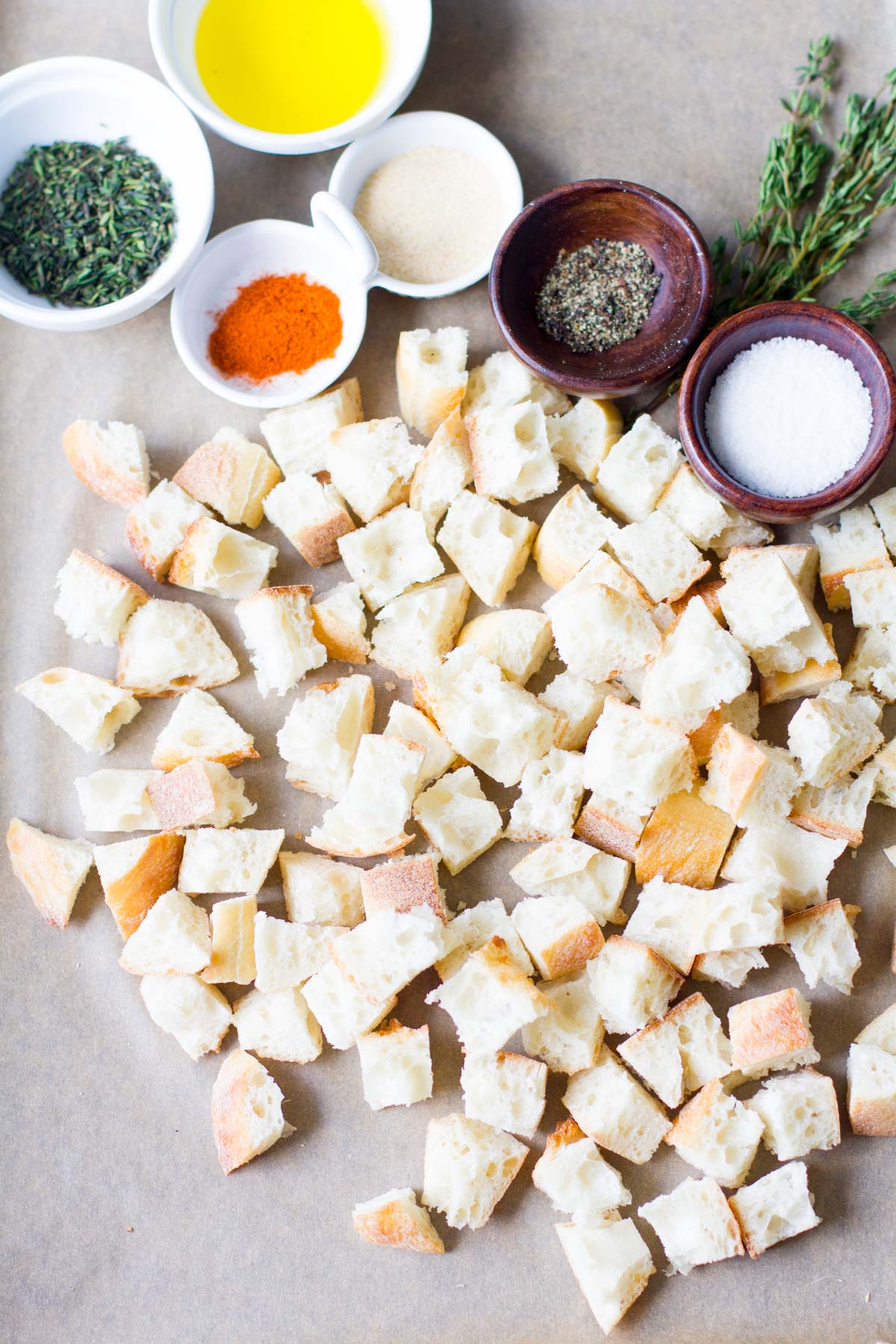 OVEN or STOVETOP —
While making in the oven is hands-free and time saving but you can always make these on stovetop. Just use more olive oil or butter or both and stir and toss frequently, making sure that the croutons dont burn. Cook untill they turn crisp and golden brown.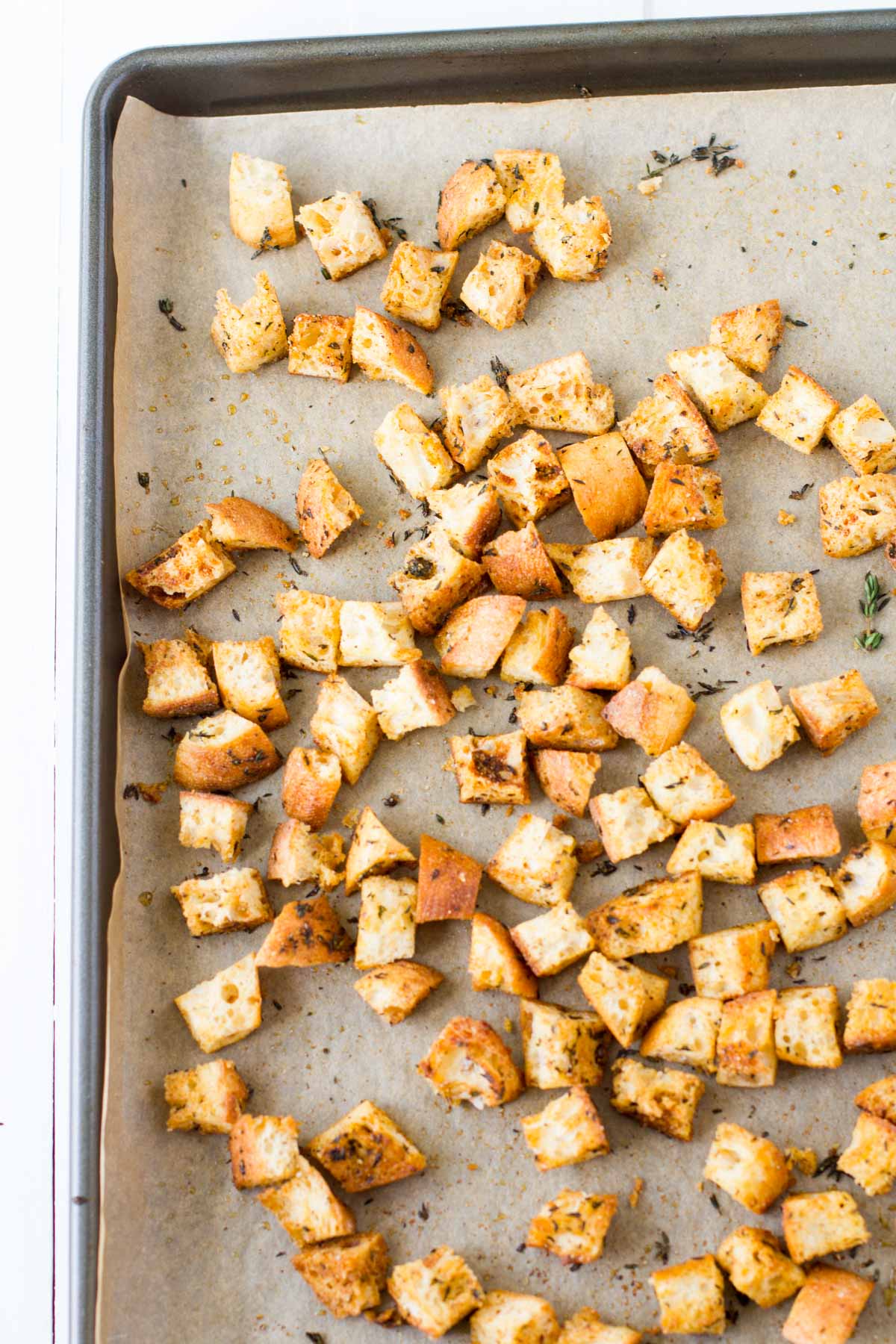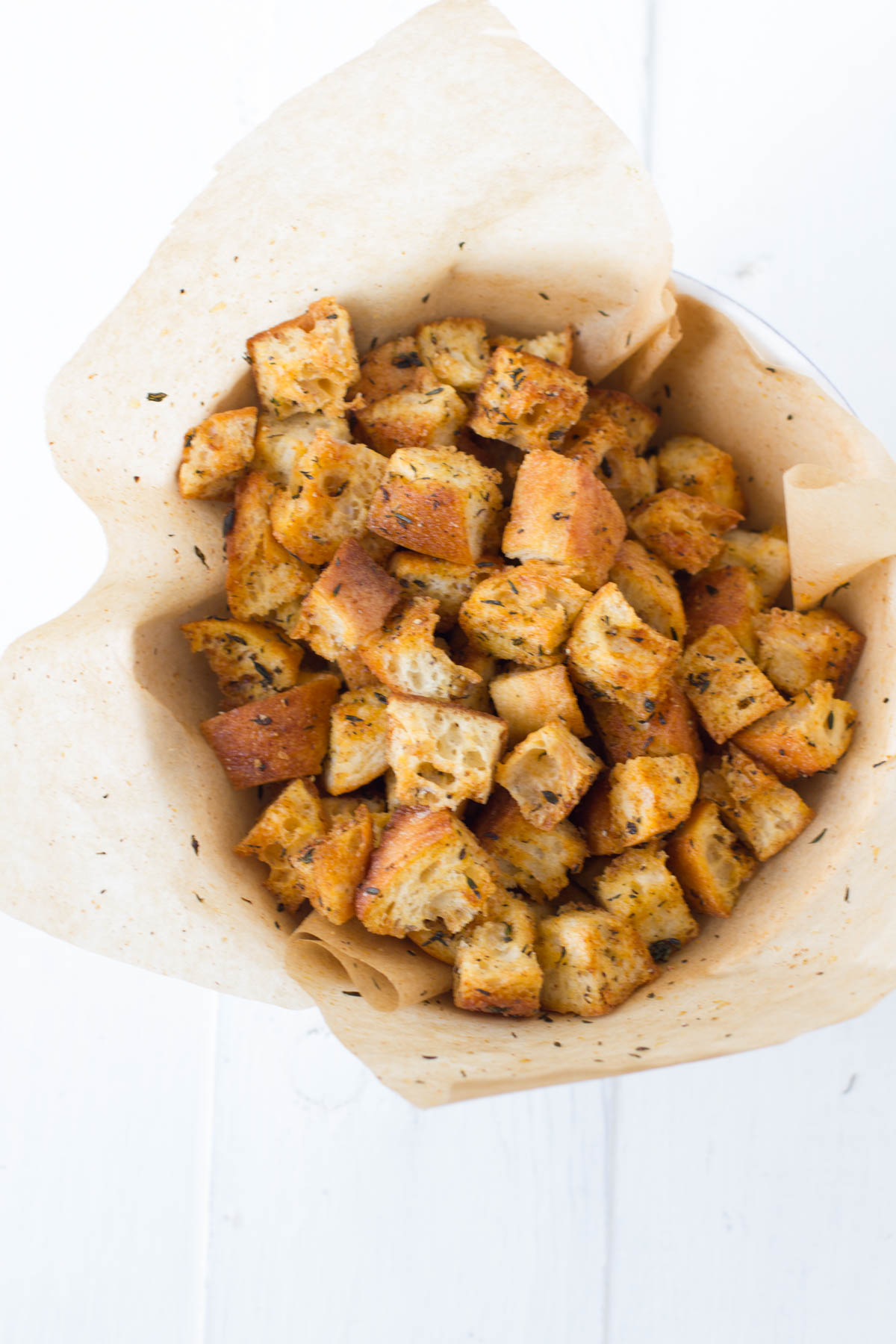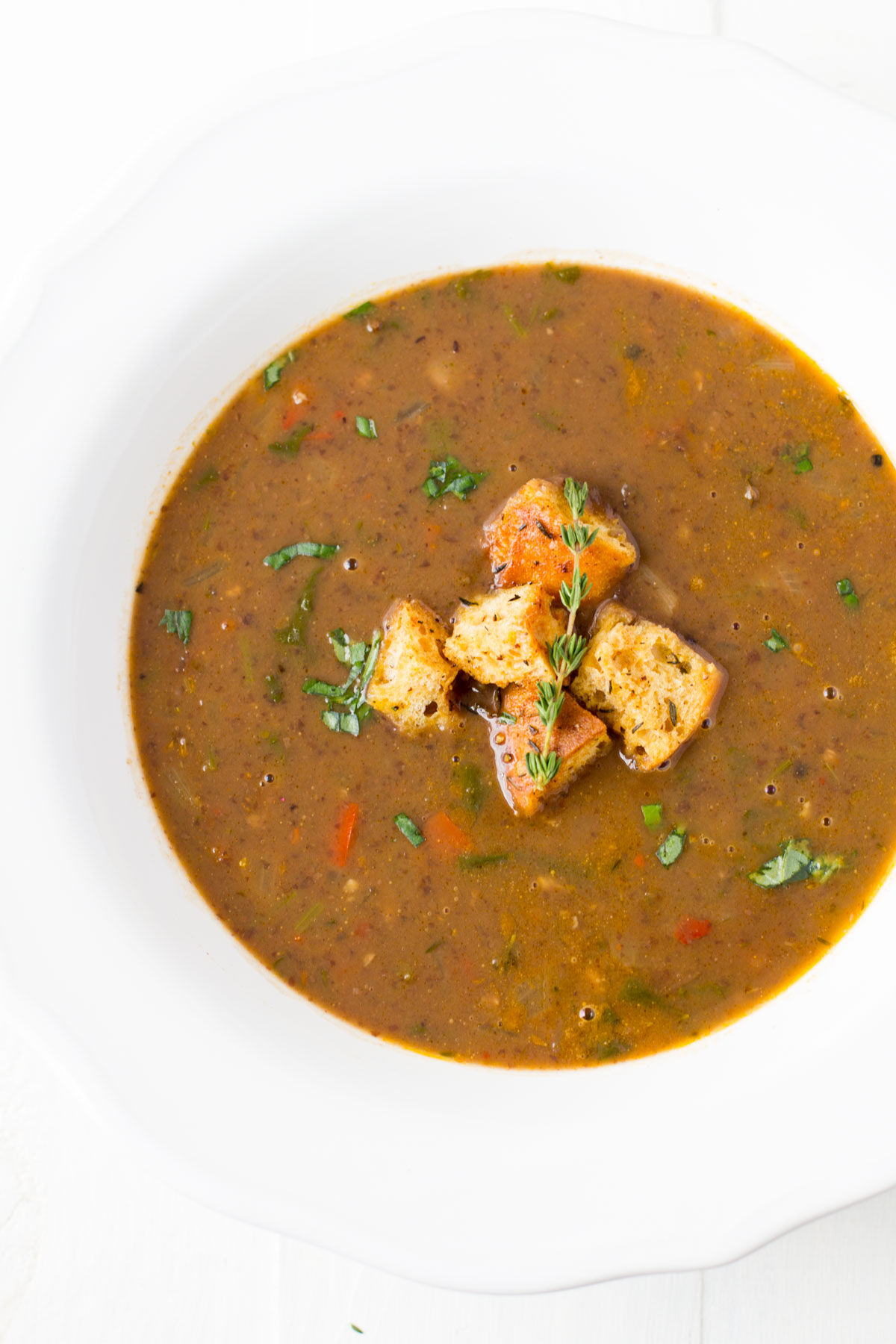 Homemade Garlic-Thyme Croutons
Make these garlic and thyme infused croutons at home with this easy recipe which yeilds super flavorful, fragrant and crispy croutons to accompany all your delicious salads and soups or simply to munch on as snack!
Recipe type:
Snack, Pantry-how to
Cuisine:
Vegan, Vegetarian, Paleo, Gluten Free
Ingredients
4 cups day old bread, cut into desired-size pieces (sourdough, baguette and the likes)
2 tablespoons olive oil
1 tablespoon fresh thyme, stripped and chopped finely
1 teaspoon garlic powder
¼ teaspoon cayenne (optional)
½ teaspoon black pepper (freshly ground)
1-2 tablespoons parmesan cheese, grated (optional)
¼ teaspoon salt, or to taste
Method
Preheat the oven to 300º F.
Line a sheet pan with parchment paper and set aside.
In a large bowl, combine the bread, olive oil, fresh thyme, garlic powder, cayenne, salt, and pepper. Toss well to distribute the ingredients, if needed massage gently to coat well.
Spread the bread cubes out on a sheet pan, leaving enough room in between. Bake the bread cubes for about 20-30 minutes, or until slightly golden brown and crisp. Dont forget to turn them around about half way. Grated Parmesan Cheese can be added at this time for extra cheesy croutons. [ This is an optional step ]
A general rule to keep in mind is to determine the color of the "done-ness", the staler/older (hence drier) the bread, the quicker it will turn golden brown.
Remove the croutons from the oven, enjoy warm to snack on or let it cool and store in an airtight container to use later in soups and salads.
My Notes
To make gluten free croutons, use gluten free bread!

Avoide cheese to make it vegan-friendly.

If you do not have fresh thyme, opt for 2 teaspoons of dried thyme.

Store in an airtight container or a zip-lock bag for upto 2 weeks.

For stove top method --- Heat up a large skillet with olive oil over medium-low heat ( butter can also be used). Gather all the ingredients + bread cubes in a bowl, toss well and add it to the skillet. Cook for 10 to 15 minutes or until cubes are lightly browned and crisp, stirring occasionally.